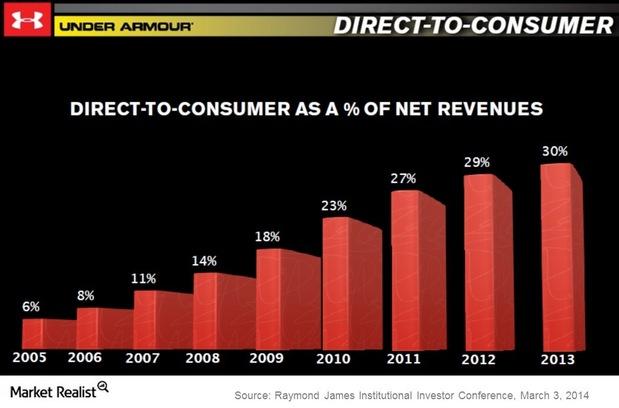 Under Armour revenues and retail presence
Analyzing Under Armour's points of sale: Wholesale, retail, and ecommerce
As mentioned previously in this series, Under Armour, Inc. (UA) customers include athletes and persons with active lifestyles. The firm's products cater to all age groups and to men, women, and kids. The company's revenues consist of the following:
Wholesale sales to retailers and sales to distributors
Direct-to-customer (or DTC) sales through its factory-house outlet stores, specialty stores, and e-commerce sales
Licensing agreements
Article continues below advertisement
Article continues below advertisement
Wholesale channels
Wholesale sales constitute Under Armour's largest selling channel. Wholesales represented 68% of Under Armour revenues in 2013. These include sales generated through national and regional sporting goods chains, independent and specialty retailers, department store chains, institutional athletic departments, and leagues and teams.
For example, Dick's Sporting Goods, Inc. (DKS) and The Sporting Authority are two of Under Armour's, or UA's, largest customers, and made up 22% of the company's net revenues in 2013. Other wholesale customers include Macy's, Inc. (M), Footlocker, Inc. (FL), and Nordstorm, Inc. (JWN), among others.
UA also sells products to independent distributors overseas—in countries where it's missing a direct sales presence—and also through licensees.
Direct-to-customer channels
Under Armour is also building a strong retail network to sell directly to its customers. It has brand- and factory-house stores in North America. As well, it's building a strong retail network overseas, including rolling out stores in Greater China, Japan, Brazil, Mexico City, Panama City, and The Philippines. DTC also includes sales made through its website operations in North America and some countries in Europe, Asia, and Latin America.
Article continues below advertisement
Factory-house stores mainly retail products that are in oversupply, that are discontinued, or out-of-season. As a result, these stores are an important part of the company's inventory management. They allow UA to offload a sizeable portion of excess inventory, while at the same time maintaining the brand pricing points in other distribution channels.
The brand-house stores, on the other hand, mainly enhance the brand experience. Consumers get firsthand and broader access to UA's products. DTC also includes online sales made through its portal at www.underarmour.com.
The DTC category accounted for 30% of the company's revenues in 2013. As a category, DTC sales have increased steadily over the years. We'll analyze this trend in greater detail later on in this series.
Licensing
Licensing revenues are based on the income earned by UA licensees from the sale of socks, team uniforms, baby and kids' apparel, eyewear, inflatable footballs, and basketballs. These revenues are earned mostly in North America. The company pre-approves all products sold to maintain brand integrity and quality control.