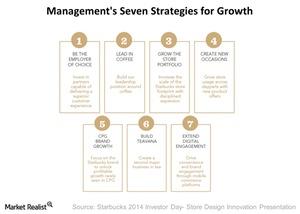 Starbucks Has Seven Growth Strategies
<p>SBUX recognizes its limitation in attracting customers. As a result, SBUX is exploring other growth strategies. It&#8217;s looking at other beverage businesses. </p>
Strategic roadmap
In the last part of this series, we learned that Starbucks' (SBUX) same-store sales are declining because of a decline in transactions. This is concerning because it directly impacts revenues.
It's very important for management to ensure that its strategic initiatives are focused on growing same-store sales. Let's discuss a list of management's strategies below.
Article continues below advertisement
Article continues below advertisement
Strategies to grow revenues
In the above chart, points one through four and seven will likely result in higher sales.
Grow the store portfolio—gives an opportunity to serve to a wide variety of consumer preferences. It widens the customer base and increases the customers that come into the store.
Create new occasions—essentially targets different

dayparts. It targets

breakfast and lunch to attract customers during non-peak hours.
Extend digital engagement—includes SBUX's mobile ecosystem. As an example, the My Starbucks Rewards program is geared to push promotions and loyalty rewards. It extends the repeat customer that come into the store.
While there isn't one way to be the "Employer of Choice," SBUX has taken some initiatives in this direction. For example, the company launched it's "Starbucks College Achievement Plan" in 2014. The program reimburses tuition fees for its employees.
Strategies to grow revenues through unit growth and CPG
The company recognizes its limitation in attracting customers. As a result, SBUX is exploring other growth strategies. It's looking at other beverage businesses. Teavana, as the name suggests, offer a variety of tea to its customers. Currently, there are only 394 Teavana stores—compared to 20,972 SBUX stores systemwide. The revenue contribution from this segment is below 3%.
CPG (consumer packaged goods) is another channel for SBUX to drive overall sales. As we saw earlier, this segment accounted for 9% of SBUX's 2014 revenues. The CPG channel gives customers the option to make SBUX beverages at home.
Dunkin' Brands (DNKN) also took a step in this direction. For example, SBUX and DNKN both have K-Cups at retailers like Walmart (WMT) and Costco (COST).
Some of the restaurants mentioned above are also included in the SPDR S&P 500 ETF (SPY).
In the next part of this series, we'll discuss SBUX's rewards program—My Starbucks Rewards.