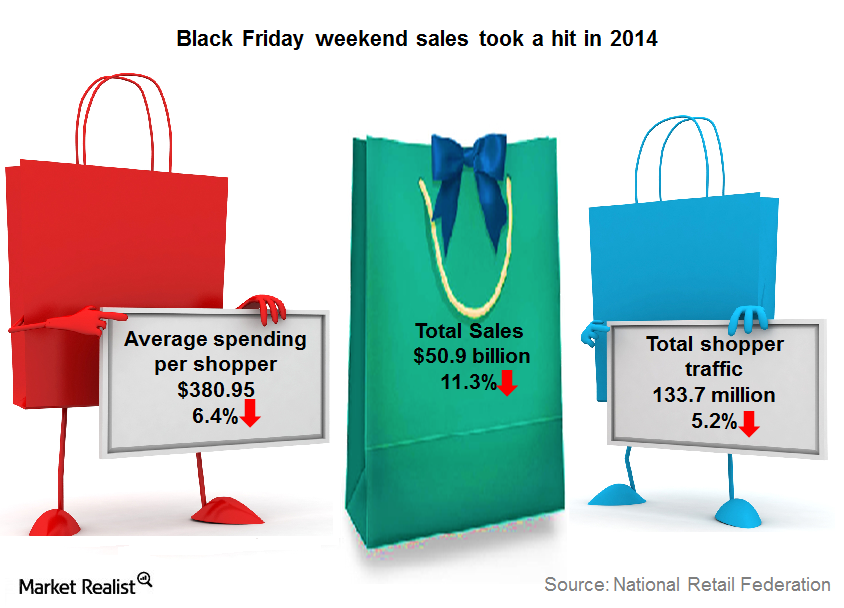 Santa Could Yet Bring Cheer To Holiday Retail Sales
American consumers are in a better spending mood for many reasons. We think the final tally for holiday retail sales could differ from the gloomy picture some of the initial estimates had painted.
The holiday cheer did not last long. With Thanksgiving leftovers barely finished, holiday retail sales reports came in suggesting a difficult start to the traditional U.S. holiday shopping season. The National Retail Federation's initial estimate of sales during the four-day weekend was $50.9 billion, down 11.3% from $57.4 billion in 2013. However, that report was quickly followed by a strong November retail sales print. Which one should investors believe?
Article continues below advertisement
Market Realist – Holiday retail sales off to a weak start
There's much to celebrate this festive season as the US economy continues to strengthen, plunging oil prices (USO) (BNO) translate into savings at the pump, and overall consumer sentiment remains optimistic! However, reports from agencies like ShopperTrak and the National Retail Federation indicate a gloomy start to the season of holiday retail sales. According to ShopperTrak, store sales for Black Friday weekend dipped 2.1% to $21.76 billion. The National Retail Federation estimated that the overall shopper traffic for the four-day weekend fell 5.2% from 141.1 million in 2013 to 133.7 million this year. The average transaction value per shopper, too, has dropped from $407 to $380.9.
Market Realist – The retail sales report for November beat analyst expectations
However, the start to the holiday retail sales season is not as gloomy as people make it out to be. Retail sales grew by 0.7% in November, the best showing in the past eight months. You can see this in the previous graph.
The retail sales report for November is largely positive with expansion in all categories except gasoline pumps, as you can see in the previous graph. The expansion in US retail sales (XRT) was boosted by an increase in the sale of motor vehicles and parts (1.7%), building materials (1.4%), and clothing and apparel stores (1.2%). Chrysler (FCAU) and Subaru saw an increase in sales by more than 20%, as per data from Autodata Corp., while General Motors (GM) posted its best November US sales since 2007. As per data from Retail Metrics Inc., same-store sales for retailers grew by 5.2% in November. The increases in same-store sales of US retailers—including Costco, which rose by 9% (COST), L Brands Inc. (LB), which rose by 8%, and Gap Inc. (GPS), which rose by 6%—exceeded analyst expectations.
Read on to the next part of this series to see why a decline in holiday retail sales for Black Friday weekend don't mean a slowdown for consumer spending (XLY).