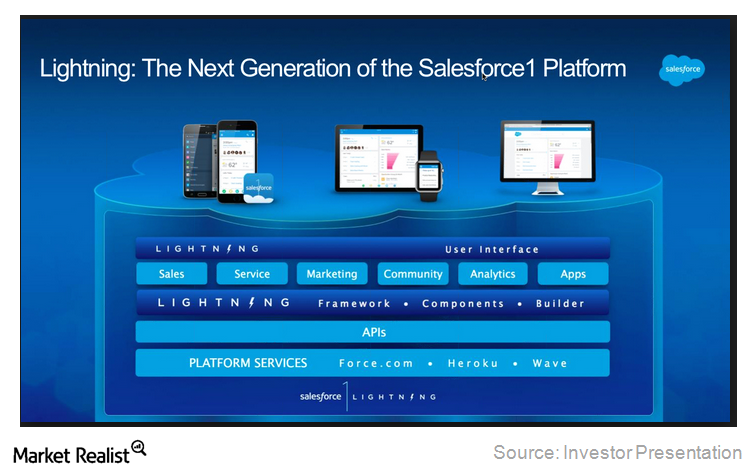 Salesforce1 gets major upgrade with Lightning platform
<p>Salesforce1 is a cloud-based platform that serves as a foundation for building connected apps that link to mobile devices, wearables, and big data.</p>
Introduction of Salesforce1
Salesforce.com (CRM) launched Salesforce1 last year at the company's annual Dreamforce summit. The company developed the cloud-based platform to serve as a foundation for building connected apps linked to mobile devices, wearables, and big data.
Article continues below advertisement
Article continues below advertisement
Launch of Lightning platform upgrades Salesforce1
Salesforce1 Lightning is the second generation of the Salesforce1 platform. Lightning offers customers and partners the tools, templates, access, and support that they need in order to build their own connected mobile apps.
The company used the same tools and technology to build the Salesforce1 mobile app. The app runs on all mobile platforms:
Thus, developers and non-developers alike will benefit equally from using the app.
Increase in mobile space competitiveness
On October 7, 2014, Salesforce.com announced the release of the Sales Cloud1 and Service Cloud1 mobile apps. The company had based these new apps on the existing Sales and Service Clouds.
Service Cloud1 includes SOS-for-Apps, a customer service mobile app. Clients can add this app's pilot version to their own apps. Similarly, Amazon (AMZN) offers tech support through the Mayday button on its Fire smartphones.
Through new launches and releases—the Salesforce1 Lightning platform, Sales Cloud1, Service Cloud1, and Wave—the company aims to optimize and get ahead in the age of SMAC (social, mobile, big data, and cloud). Salesforce.com is gearing up for the "Internet of Things" (or IoT) movement, which the company calls the "Internet of Customers."