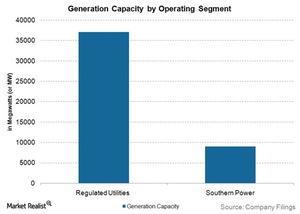 Regulated business is Southern Company's strength
<p>Southern Company manages its regulated utility business through the following four subsidiary companies: Alabama Power, Georgia Power, Gulf Power, and Mississippi Power. These subsidiaries have a combined power generation capacity of 37,000 megawatts (or MW).</p>
Operating segments
Southern Company (SO) is involved in the power industry's traditional regulated business and unregulated business in the United States. Regulated utilities make up the majority of operations for Southern Company. More than 90% of its earnings come from its regulated utilities business.
Article continues below advertisement
Article continues below advertisement
Regulated utilities
Southern Company manages its regulated utility business through the following four subsidiary companies: Alabama Power, Georgia Power, Gulf Power, and Mississippi Power. These subsidiaries have a combined power generation capacity of 37,000 megawatts (or MW).
Through these companies, Southern Company manages power generation, transmission, and distribution activities for its utility services. The service area for its utility services includes the states of Alabama, Florida, Georgia, and Mississippi.
Although Southern Company operates as a monopoly in these regions, it does not enjoy the pricing power since the U.S. government fixes the electricity prices based on cost of electricity generation.
Unregulated business
Southern Company's unregulated operation is managed by its subsidiary, Southern Power. Unregulated business electricity prices depend on market prices, which is not the case for regulated utilities businesses. Southern Power owns a generating capacity of nearly 9,000 MW, which is spread across eight U.S. states.
Like Southern Company, Duke Energy (DUK), Dominion Resources (D), and NextEra Energy (NEE) generate most of their revenues from the traditional regulated utility segment. All these companies are part of the Utilities Select Sector Standard & Poors depositary receipt (or SPDR) (XLU).