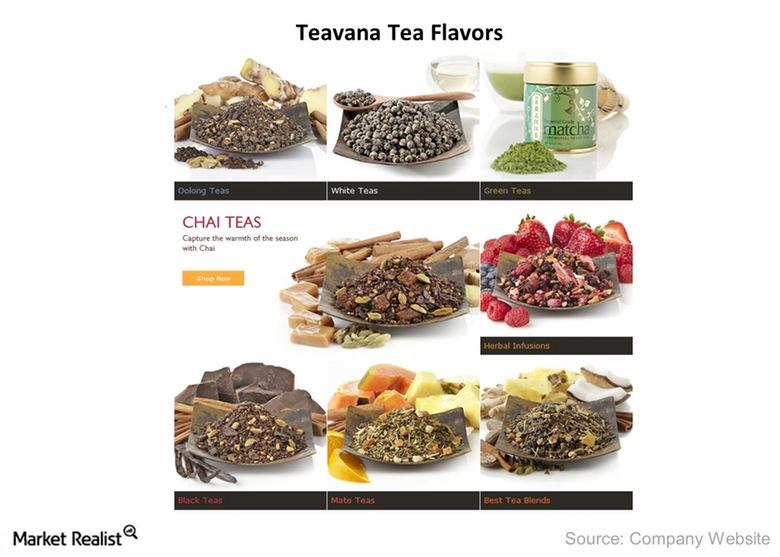 Product innovation is Starbucks' primary focus
<p>Starbucks' (SBUX) management states that product innovation will be its primary focus as it maintains a lesser focus on its coffee business.</p>
Offerings expansion
Starbucks' (SBUX) management states that product innovation will be its primary focus as it maintains a lesser focus on its coffee business.
Article continues below advertisement
Article continues below advertisement
Teavana Teabar
In the fourth quarter of 2014, Starbucks opened its sixth Teavana Teabar in New York City. Starbucks plans to capture the tea beverage market with an approach similar to its coffee stores. According to Starbucks' management, the tea beverage industry is a $90-billion industry.
Starbucks is increasingly focused on generating revenues from relevant products such as tea beverages by opening Teavana Teabars. Starbucks has introduced tea beverages such as Teavana Oprah Chai, Travana Shaken Iced Tea, and other handcrafted beverages, which, according to Starbucks' management, have together driven incrementality in its stores.
Introducing Fizzio
In addition, Starbucks has introduced a carbonated drink called Fizzio into 3,000 of its stores in the United States. The company plans to launch these differentiated products in various international markets going forward.
Starbucks to expand rare and exclusive coffees
Starbucks will also be expanding its micro lot rare and exclusive reserve coffee. As of 2Q14, Starbucks has offered 20 micro lot coffees around the world. Management has stated that it will offer one such micro lot reserve coffee, which will be developed on its own farm in Costa Rica. Through the micro lot, the company will offer to the premium coffee segment.
Restaurants often introduce new products to expand their customer base. For example, Dunkin' Brands (DNKN) offered pumpkin-flavored latté in the third quarter, and Chili's, under the umbrella of Brinker International (EAT), introduced a light menu. McDonald's (MCD) introduced coffees from its McCafé brand. Investors who would like to invest in the restaurant industry as a whole can invest in exchange-traded funds (or ETFs) like the Consumer Discretionary Select Sector Standard & Poors depositary receipt (or SPDR) fund (XLY).
Growing units is also equally important for restaurants. Let's look next at Starbucks' aggressive unit growth.