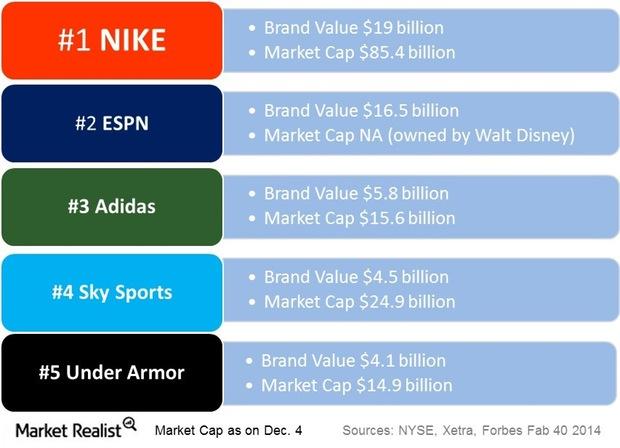 Porter's 5 Forces: Under Armour And The Sportswear Industry
The nature of competition and industry forces
Porter's 5 forces, developed by Harvard Business School professor, Michael E. Porter, is a model of analysis used to gauge the level of competition within an industry. As the name suggests, five basic forces are used in the analysis:
Intensity of rivalry within the industry
The threat of substitutes
The threat of new entrants
Bargaining power of buyers
Bargaining power of suppliers
Article continues below advertisement
Article continues below advertisement
How does Under Armour stack up against peers using the Porter's 5 forces model?
The sportswear goods industry is highly competitive and fragmented with many players. There are few barriers to stop new players from entering the market. Products are differentiated on the basis of innovation and brand value. These are critical factors in an industry where buyers can shift brands without incurring additional costs. Product differentiation and brand image enable a company to charge higher prices, reduce the risk of substitution by competitive products, and create a must-have aura.
The influence of suppliers in the industry is critical, as most products aren't manufactured by the firms themselves. These are outsourced to third-party producers in foreign countries. So, ensuring good relations with suppliers and eliminating bottlenecks in the supply chain are critical factors for all players. As the larger and well-established players within the industry, NIKE, Adidas, and UA have more bargaining power.
Under Armour's brand value
Innovation in developing products and creating brand value takes time to build. The advantage of time is one enjoyed by more entrenched players such as NIKE, Inc. (NKE) and Adidas AG (ADDYY).
Under Armour, Inc. (UA) has been successful in building a brand over the years but it still lags significantly behind market leader NIKE. The UA brand was ranked #5 in the "Forbes Fab 40: The World's Most Valuable Sports Brands 2014," with a brand value estimated at $4.1 billion. On the positive side, UA has also been coming up with new products on a regular basis. That attracts customers and keeps the brand in play in the marketplace.