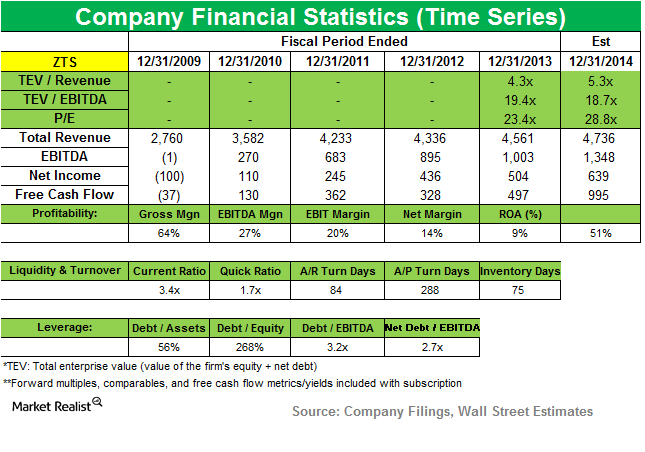 Pershing Square takes 8.5% stake in Zoetis
Pershing Square adds new position in Zoetis
Pershing Square Capital Holdings added a new position in Zoetis Inc. (ZTS), which accounts for 1.52% of Pershing Square's portfolio for the third quarter that ended in September 2014.
Article continues below advertisement
Pershing Square discloses 8.5% activist stake
In November, the fund disclosed an activist position via a 13D filing. Pershing Square said it owns an 8.5% stake in Zoetis with 41,823,145 shares of Zoetis and additional economic exposure through cash-settled total return swaps representing 995,602 notional shares. A press release said the fund paid an aggregate consideration, including amounts to settle its derivatives, of $1.54 billion. The 13D filing said the company's stock "is undervalued and is an attractive investment."
The stake was acquired with Sachem Head Capital Management, an activist hedge fund run by Scott Ferguson. The fund said its "collective investment represents an approximate 10% stake in the company." Shares of Zoetis have gained on reports of Pershing Square's investment.
Overview of Zoetis
Zoetis Inc. (ZTS) is the animal health business that Pfizer (PFE) spun off in June 2013. For more than 60 years, Zoetis was a business unit of Pfizer, and now it is an independent public company. Zoetis is one of the top companies involved in the discovery, development, manufacture, and commercialization of animal health medicines and vaccines. It has a focus on both livestock and companion animals.
It organizes and manages its business across the following four regional operating segments:
The United States (U.S.)
Europe, Africa, Middle East (EuAfME)
Canada, Latin America (CLAR)
Asia, Pacific (APAC)
Zoetis said the United States is its largest operating segment with revenue of $1.902 billion, or 42% of total revenue for 2013. Livestock products represented approximately 64% of the revenue for the year ending December 31, 2013. It has a market cap of ~$22 billion.
Article continues below advertisement
Zoetis has attractive growth catalysts
Pershing Square highlighted the investment in its 3Q letter and said that "Zoetis' business model passes Pershing Square's high bar for business quality. It participates in markets with strong secular growth, driven by global increases in protein consumption, pet ownership, and the use of medicines to treat pets and livestock. As a result, the global animal health market has grown at an average of about 4% since 2008 and has experienced positive volume growth every year since 2003." The fund added that "Zoetis is a scarce asset, similar to our investment in Beam."
Animal health industry poised to grow
Zoetis' website states the animal medicines and vaccines sector is estimated to represent a global market of $22 billion within the approximately $92–$102 billion animal health industry. The company cited data from Vetnosis, a research and consulting firm specializing in global animal health and veterinary medicine. It added that between 2011 and 2016, the animal medicines and vaccines sector is projected to grow at a compound annual growth rate of 5.7% per year.
This growth will also benefit Zoetis' peers in the sector such as Merck Animal Health, the animal health division of Merck & Co. (MRK); Merial, the animal health division of Sanofi (SNY); Elanco, the animal health division of Eli Lilly and Company (LLY); and Bayer Animal Health, the animal health division of Bayer AG (BAYZF).