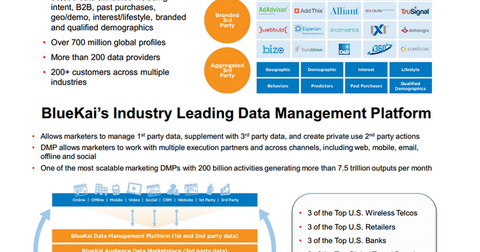 Oracle's strategic acquisitions in marketing cloud space
By Anne Shields

Updated
Strategic acquisition extends public cloud portfolio
As explored earlier in this series, Oracle (ORCL) acquired Datalogix with the goal of strengthening its presence in the digital marketing space. Oracle's dominance in the database market enables it to successfully market its IaaS, PaaS, and SaaS products.
Through the Datalogix acquisition, Oracle aims to extend its public cloud strategy to combine IaaS, PaaS, SaaS, and Data as a service (or DaaS) on a common cloud. In the past, Oracle made strategic acquisitions in the marketing cloud space to strengthen its presence in the cloud space.
Article continues below advertisement
BlueKai expands Oracle's digital market suite
In early 2014, Oracle acquired BlueKai, a cloud-based marketing provider, to boost its digital portfolio as shown below. BlueKai's Data Management Platform centrally organizes a company's customer and audience data in the cloud to help implement personalized marketing campaigns across all channels. The Datalogix deal complements Oracle's acquisition of BlueKai and strengthens its digital marketing suite.
Eloqua acquisition provides B2B marketing automation platform
In December 2013, Oracle acquired Eloqua, a provider of web-based marketing automation software for approximately $810 million. This acquisition was in sync with Oracle's strategy of boosting its cloud presence, as well as being a one-stop source in the digital world for operating systems, databases, computer programs, and infrastructure.
Through this acquisition, Oracle gained access to Eloqua's established list of customers, including Adobe (ADBE), AON, Dow Jones, ADP (ADP), Fidelity, Polycom (PLCM), and National Instruments (NATI).
Responsys acquisition
In December 2013, Oracle acquired Responsys for $1.5 billion, a cross-channel marketing platform provider. Responsys added B2C marketing automation to complement Oracle's existing B2B marketing automation gained from its Eloqua acquisition. Responsys's B2C marketing automation provided large-scale email deliverability that Eloqua's B2B marketing automation solutions did not provide.
Oracle integrated BlueKai with both Responsys for B2C marketing automation and Eloqua for B2B marketing automation.