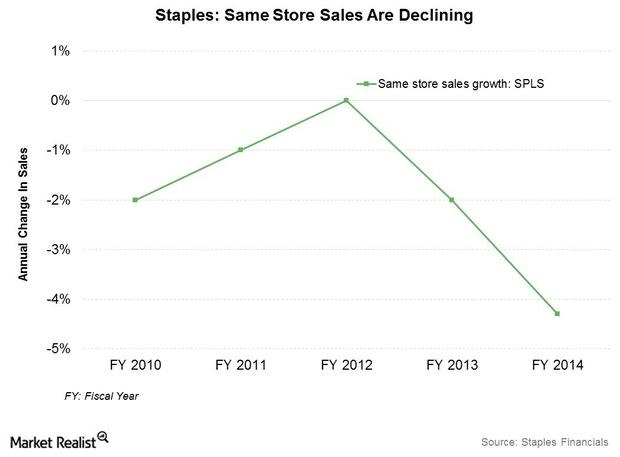 Office Supplies Retail: Regulation, Competition, And Consolidation
Industry competition
Despite the large number of industry retailers (XRT), there aren't many brick-and-mortar players left in the market. A merger between the first and second players—Staples (SPLS) and Office Depot (ODP)—would increase market concentration to an extent. In 1997, the FTC (Federal Trade Commission) didn't allow a merger between the two companies on anti-competitive grounds.
Article continues below advertisement
Article continues below advertisement
New entrants
However, that was 1997. Now, it's 17 years later. The marketplace changed. Big-box retailers—like Walmart (WMT), Target (TGT), and Costco (COST)—dented their market share by offering products at discounted prices. Also, the industry faced stiff competition from online retailers like Amazon (AMZN). An online retailer can offer even lower prices due to its non-store business model. These retailers are often a draw for retail customers. Retail customers account for ~20% of SPLS's client base.
Office Depot-OfficeMax combine
In November 2013, the FTC approved a merger between the second and third players—Office Depot (ODP) and OfficeMax (OMX). The green light is a concession to the changing industry landscape. The industry is seeing revenues decline for office supply retailers year-over-year, or YoY, in core categories. The declines are due to increasing competition from other retailers. The declines are also due the changing market. Product requirements are changing. We discussed the merger in more detail in Part 5 of this series.
Industry concentration
However, allowing a merger between the first and second players would mean that the new chain would control almost 68% of the $20 billion office supplies market—according to IBISWorld Industry estimates as of November 2014.
In the next part of this series, we'll discuss the pros and cons of such a combination—from a competitive perspective.