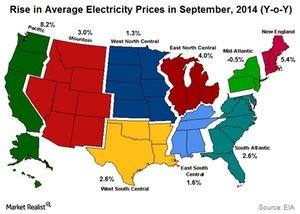 New England and the Pacific are great regions to produce power
<p>The US is divided into nine divisions. The Pacific and New England divisions had the highest year-over-year, or YoY, growth in electricity prices in September 2014.</p>
Electricity prices vary across regions
Apart from electricity prices varying across sectors, electricity prices also vary across regions and states. The US is a large country. Electricity prices vary widely throughout the US.
For example, the average residential electricity price in Washington in September 2014 was $0.09 per Kilowatt-hour, or kWh—compared to $0.38 per kWh in Hawaii. Regional electricity prices are an important factor for the power utilities industry.
Regions with highest rise in electricity prices
The US is divided into nine divisions. The divisions can be seen in the above chart. The average electricity prices in the US increased by 3.6% between September 2013 and September 2014.
Except for the Mid-Atlantic, the electricity prices increased significantly for all of the divisions. The Pacific and New England divisions had the highest year-over-year, or YoY, growth in electricity prices in September 2014.
The electricity prices in both regions increased sharply. This is the third month in a row where they've registered the highest YoY growth in monthly electricity prices.
PG&E Corporation (PCG) and Northeast Utilities Systems (NU) are major players in the Pacific and New England divisions, respectively.
In terms of prices, the East North Central division in the US is next. Electricity prices in the division grew by 4% on a YoY basis for September 2014.
Xcel Energy (XEL) and American Electric Power Company (AEP) have a presence in these regions. They should benefit from increased prices in these areas. Rising electricity prices across the US are positive for all of the companies that are part of the Utilities Select Sector SPDR (XLU).
Article continues below advertisement
Article continues below advertisement