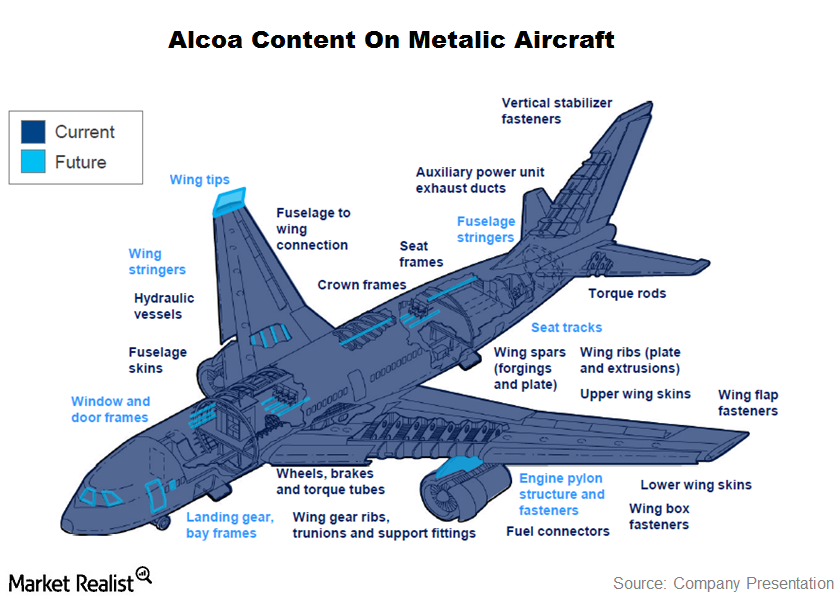 Must-know: Alcoa's Aerospace Segment Is Important
Alcoa's aerospace segment
The aerospace segment is the one of the biggest aluminum consumers in the world. Alcoa (AA) got $4 billion in revenue from aerospace companies last year. Let's see how Alcoa is playing the aerospace industry.
Article continues below advertisement
Alcoa's aircraft parts
The above chart shows the various components in an aircraft that Alcoa produces. You can also see that besides AA's current parts, it's developing some parts for the future. We'll look at some of the recent developments that would help increase AA's aerospace revenues.
AA acquired Firth Rixson. Firth Rixson is a leading jet engine component manufacturer. AA acquired it for $2.85 billion. This deal is expected to increase AA's revenues from the aerospace industry by ~20%.
Recently, AA signed a $1 billion contract with Boeing (BA) to supply aluminum sheet and plate products.
It also signed a multiyear deal with Pratt & Whitney. The value of contract is more than $1.1 billion.
AA opened the world's largest aluminum-lithium facility in Indiana. Please be aware that this facility will produce parts for the aerospace industry. This alloy offers an increased strength to weight ratio—compared to conventional aluminum products.
Alcoa is doubling its high-tech coating capacity in Michigan. It will spend $16.7 billion on the expansion.
Constellium (CSTM) expects its revenues from aerospace to come down next year. One of CSTM's largest customers in the aerospace industry slowed expansion plans. One of the indicators investors should watch is aerospace companies' order backlog. We'll discuss this in more detail in the next part of this series.
Investors can also play the aluminum industry through Century Aluminum (CENX). Currently, CENX is a top holding of the SPDR S&P Metals and Mining ETF (XME).