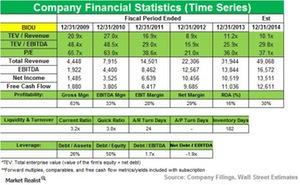 Maverick Capital lowers position in Baidu, Inc.
Maverick Capital and Baidu, Inc.
Maverick Capital added new positions in CBS Corp. (CBS), Alibaba Group (BABA), and 21st Century Fox (FOXA). The fund's top exits were Ralph Lauren Corp. (RL), Walgreen's (WAG), and Ctrip.com (CTRP). The fund added to its stakes in Qihoo 360 Technology (QIHU), FleetCor Technologies (FLT), and AbbVie Inc. (ABBV). Its top stake decreases were in Baidu, Inc. (BIDU) and TransDigm Group (TDG).
Maverick Capital lowered its position in BIDU in 3Q14. The position accounts for 0.36% of the fund's total portfolio in the third quarter.
Article continues below advertisement
About Baidu, Inc.
BIDU is the leading Chinese Internet search provider. The technology-based media company serves individual Internet users. It provides an effective platform for businesses to reach potential customers.
According to the Internet analytics firm Alexa.com, BIDU is the largest website in China. It's the fifth largest website in the world. Alexa.com based its calculations on the average daily visitors and page views during a three-month period that ended on December 31, 2013.
According to iResearch, BIDU captured 81.6% of China's Internet search traffic in 2013. People often refer to BIDU as China's Google.
Mobile traffic drives top-line growth
For 3Q14, BIDU reported total revenues of $2.203 billion. This beat the estimates. It increased 53%—compared to the same period in 2013. Online marketing revenues for 3Q14 were $2.188 billion. It increased 51.8%—compared to the same period in 2013.
Net income attributable to BIDU was $631.5 million—a 27.2% increase from 3Q13.
BIDU had ~516,000 active online marketing customers in 3Q14. The traffic acquisition cost $283.8 million. This represented 12.9% of the total revenues—compared to 11.7% in the same period in 2013. The growth was due to the increased contribution of contextual ads, mobile traffic, and the promotion of BIDU's website directory Hao123.
Article continues below advertisement
BIDU buys Brazilian e-commerce company
According to iResearch, BIDU bought a controlling interest in Peixe Urbano—the largest e-commerce company in Brazil. The purchase will help BIDU expand in a country where consulting firms—like A.T. Kearney—say that the e-commerce market could see an average annual growth of 18% by 2016.
BIDU's management said, "International expansion is a priority for Baidu and, under this strategy, Brazil is a key market where over 50 million people already use our services every day."
LightInTheBox forms strategic alliance with BIDU
On November 13, 2014, LightInTheBox announced that it partnered with Baidu Dianxin to develop international mobile markets. LightInTheBox is an online retailer. It delivers products directly to consumers around the world. Baidu Dianxin is a leading global mobile app provider. It's a fully-owned subsidiary of BIDU.
The deal will allow LightInTheBox to market its products and apps to international consumers through BIDU's search engine. The deal will give LightInTheBox a broader audience. The agreement will also help Baidu Dianxin monetize its apps. LightInTheBox will pay to advertise on BIDU's apps. Considering the popularity of Baidu Dianxin's apps, there's a huge potential market for the Chinese online retailer.
Shares for LightInTheBox rallied more than 9% after the announcement. BIDU's shares increased by 1%.
The next part of this series will highlight Maverick Capital's reduced stakes in TDG.