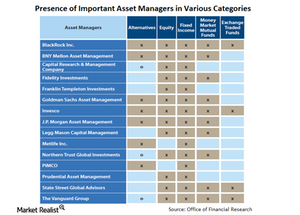 The main players in asset management
Most players focus on one style
The asset management industry has a number of players. Meanwhile, we generally observe that most focus on either active or passive asset management styles. There are players such as BlackRock (BLK) and State Street (STT) that largely focus on passive management. On the other hand, there are players such as Legg Mason (LM) and JP Morgan Asset Management, a part of JP Morgan Chase & Co. (JPM), that focus on active management.
Article continues below advertisement
Essentially, the inherent investment philosophies of different organizations determine what style is preferred. Active asset managers believe they can outperform average market returns or a defined benchmark. Passive asset managers generally believe in the efficient market hypothesis, or EMT. Broadly speaking, the EMT maintains that the market prices everything correctly, and so it isn't possible to outperform the market in the long run.
With time and a view to meet diverse investor needs, many players have moved beyond core areas to provide products in non-core areas too, as demonstrated by the chart above.
The largest players in passive asset management
BlackRock is the largest player in the passive asset management space, followed by Vanguard and State Street Global Advisors. BlackRock has nearly $8.3 trillion in assets under management, Vanguard has nearly $2.96 trillion, and State Street follows closely with $2.42 trillion in assets under management.
The largest players in active asset management
Fidelity is the largest pure play active asset manager, followed by Franklin Templeton. Fidelity has $1.74 trillion in assets under management, and Franklin Templeton, which is a part of the SPDR S&P 500 ETF Trust (SPY), has nearly $900 billion in assets under management.
Banks such as JP Morgan Chase & Co., Bank of America, Goldman Sachs, and Merrill Lynch are also big players in the asset management industry, but operate through subsidiaries.
Compared to other industries, the asset management industry has a relatively large number of companies that are listed on stock exchanges.