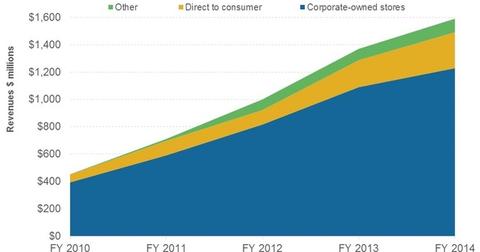 Why Lululemon's Distribution Channels Are A Competitive Advantage
By Phalguni Soni

Updated
Lululemon's customer profile
Most of Lululemon Athletica's (LULU) products are geared towards active women pursuing a healthy lifestyle. The company believes their unique products that incorporate style, technical quality, and functionality offer better product choices to its target market. It also offers apparel lines for men and girls. Its line for girls is categorized as a separate brand, Ivivva, which operates as a separate entity with its own retail stores.
Article continues below advertisement
Products reach customers through three main channels
corporate-owned retail stores
direct-to-consumer (or DTC) sales, which include online sales
wholesale, franchise, and other channels
Corporate-owned retail store revenues
This is the largest-selling channel for LULU, accounting for over 77% of revenues in the fiscal year ending February 2, 2014. The company's retail footprint encompassed 289 stores at the end of 3Q15, spread out primarily in the US, Canada, Australia, and New Zealand. In comparison, the market leader in sportswear, NIKE (NKE), had 858 stores globally as of May 31, 2014.
Article continues below advertisement
Direct-to-consumer (or DTC) revenues
These revenues consist of sales made online through the company's websites. LULU started online sales in 2009. Since then, online sales have grown strongly, making up 16.5% of revenues in the fiscal year ending February 2, 2014. DTC sales have steadily increased over the years, growing at a CAGR (compound annual growth rate) of over 45% (fiscal years 2010–14). They're likely to be a significant growth driver for the company going forward.
Other net revenues
These revenues include sales to wholesale accounts like health clubs and yoga studios, warehouse sales, and franchise royalties. This is the smallest revenues component, making up about 6.2% of the total in the fiscal year ending February 2, 2014. LULU's sale through wholesale channels is much lower than its competitors VF Corporation (VFC), NIKE (NKE), and Under Armour (UA). This is one reason why LULU's margins are higher than those of its competitors, since sales through the wholesale channel typically earn lower margins compared to retail sales.
The portfolio holdings of the SPDR MSCI World Quality Mix ETF (QWLD) include LULU, NKE, UA, and VFC.