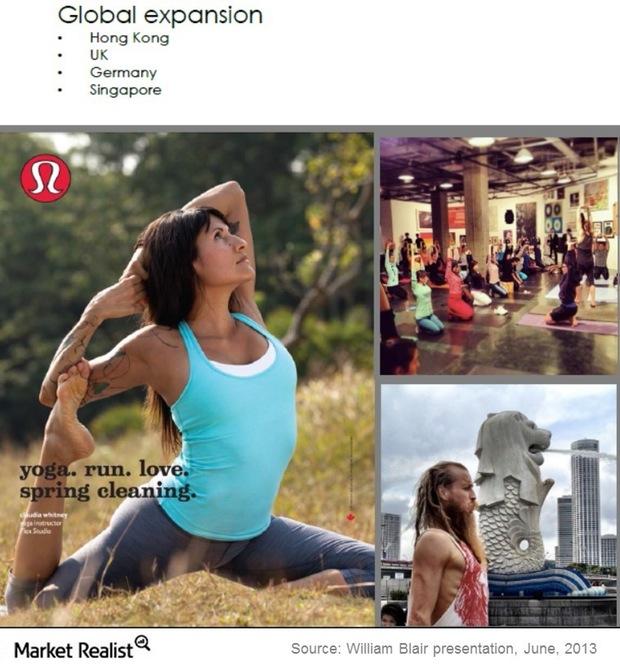 Lululemon Builds Brands Through Unique Marketing Strategies
<p>For relatively new companies competing in an industry with many players, building a well-recognized and reputed brand is essential.</p>
The importance of building brand value
For relatively new companies competing in an industry with many players, building a well-recognized and reputed brand is essential. Branding also ensures being able to charge more, as the company's products are more upscale.
As we explained earlier in this series, Lululemon Athletica (LULU) has a design team that develops unique fabrics. Some of the company's major brands and trademarks include Luon, Silverescent, VitaSea, Boolux, Luxtreme, Luxchange, Groove Pant, Light as Air, and Power Y. It also holds various industrial design registrations and patents in Canada, the US, and Europe that protect its unique apparel and accessory designs.
Article continues below advertisement
Article continues below advertisement
Ivivva: A key future growth driver
LULU's launched Ivivva, its dance-inspired brand for young girls, in 2009. It's run as a separate business entity and retails in its own stores. As yet, it's not a significant revenue driver for the company. However, the company has rolled out stores aggressively. This will widen its consumer base, including younger females. It's likely to be a key growth driver for the company going forward.
Community-based marketing strategies: The brand ambassador program
LULU's marketing approach is very community-based and store-centric. The company builds brand loyalty through local initiatives like its ambassador program. Lululemon uses this program much as other sportswear and equipment companies use star-athlete endorsements. However, the 1,500-strong ambassador program extends to unique individuals in store communities whom the company deems to represent the company's values and lifestyle. The program promotes brand visibility through the community.
Article continues below advertisement
The program also includes elite ambassadors. These are world-class athletes, including 25 Olympians, who represent the company's values and lifestyle, like cyclist Ryan Leech. LULU has also launched an online forum through which ambassadors network with each other and the store as well as the design teams in Vancouver.
Besides the brand ambassadors, the company also leverages social media, in-store community boards, and other grassroots initiatives.
LULU's competitors NIKE (NKE) and Under Armour (UA) have pretty strong brands, ranked first and fifth, respectively, as per the "Forbes Fab 40: The World's Most Valuable Sports Brands 2014″ rankings. They've been around longer than LULU and maintained a competitive edge. Both UA and NKE are part of the SPDR Consumer Discretionary Select Sector ETF (XLY) and the SPDR S&P 500 ETF (SPY).