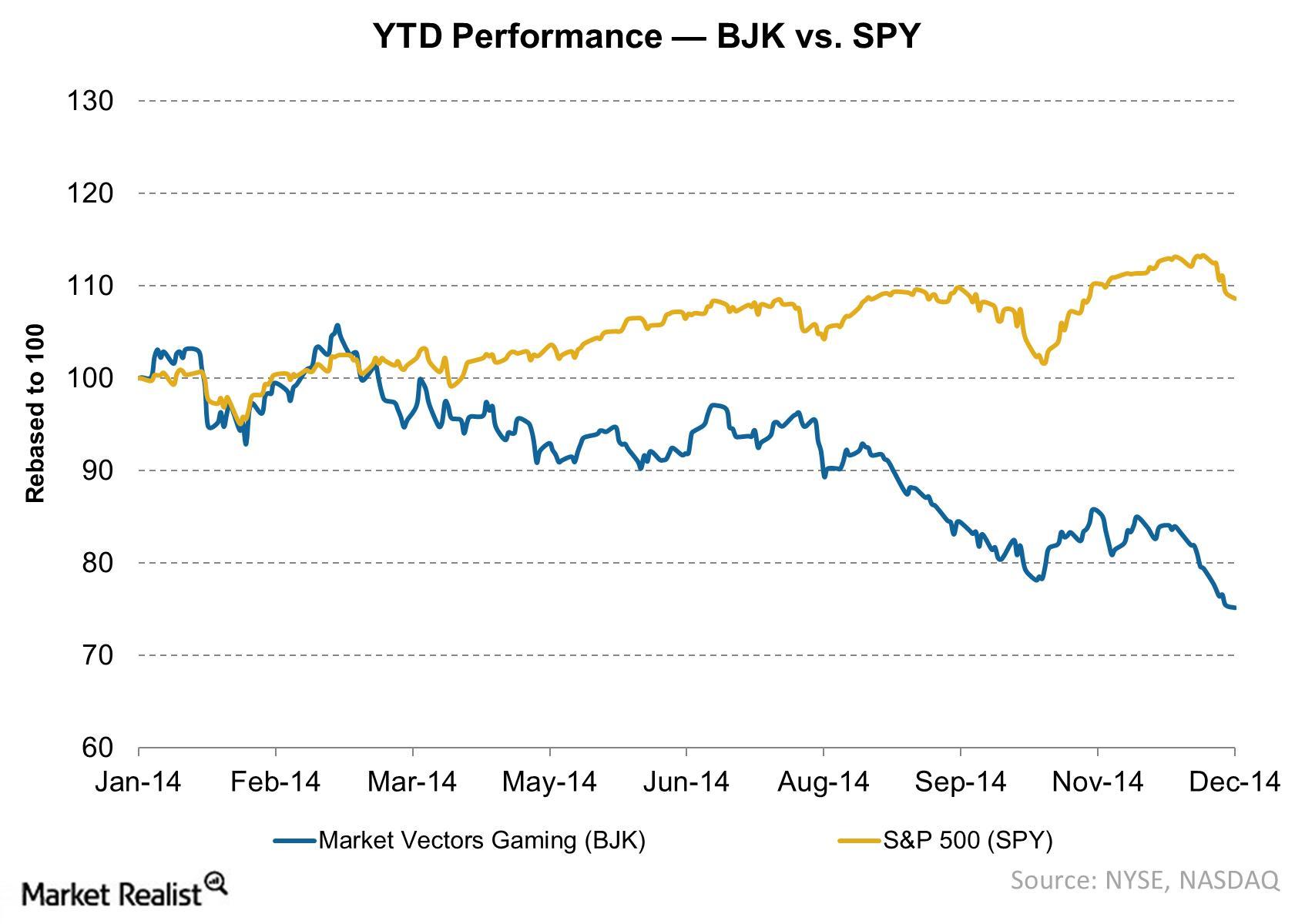 Key Indicators And Recent Trends In The Casino Industry
Overview
Casino gambling is spread across major destinations around the world. For example, casinos are located Las Vegas and Macau. Macau is the only place in China where gambling is legal. Recently, casinos at these major destinations are being influenced by certain factors. This is hampering industry growth.
To learn about casino gaming, its business model, and the risk factors involved, read Must-know: An overview of casino gaming.
Article continues below advertisement
The VanEck Vectors Gaming ETF (BJK) tracks the performance of casino companies. BJK's major holdings include Las Vegas Sands (LVS), Wynn Resorts (WYNN), and MGM Resorts (MGM). The above chart shows the performance of BJK and the S&P 500 (SPY) Index since the beginning of the year. BJK performed poorly—compared to SPY. It had a negative return of 24.8%. SPY had a positive return of 8.6% in the same time period.

Indicators overview
The casino industry is a very discretionary portion of consumer spending. It's exposed to changes in economic confidence and conditions. In this series, we'll discuss the recent trends, opportunities, and challenges in the casino gambling market. We'll also take a look at certain primary and secondary factors that influence the industry. The factors include, but aren't limited to, the following:
Macau Casinos' Forward EV/EBITDA Multiple Is Declining Slowly
Casinos May Look To Expand Non-Gaming In 2015
Casino REITs Are Becoming Popular In The US
Gambling Revenues Declined In Nevada
Disposable Income Drives Demand For Casinos
Why The Casino Business Is Affected By Inflation
Increased Human Capital Drives Casino Growth
Rising Public Debt Is A Threat To Casinos