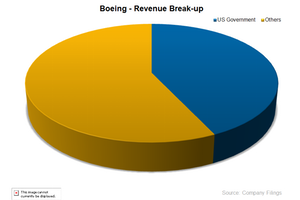 An investor's introduction to Boeing
Company overview
The Boeing Company (BA) is a leading manufacturer of commercial jetliners and defense, space, and security systems. It is the largest commercial jet manufacturer in the US and is the world's second-largest behind Airbus. The company has one of the most diverse workforces spread across 65 countries.
Boeing is also the second-largest defense contractor in the US. To learn more about the defense industry, read An investor's introduction to the defense industry.
Article continues below advertisement
BA faces stiff competition in the US from Lockheed Martin (LMT), United Technologies Corporation (UTX), General Electronics (GE), and Northrop Grumman (NOC). The iShares US Aerospace & Defense ETF (ITA) adequately represents these companies. Boeing's international competitors include Airbus, Bombardier, and Embraer (ERJ).
Boeing's offerings include the following products and services:
commercial and military aircraft
satellites
weapons
electronic and defense systems
launch systems
advanced information and communication systems
performance-based logistics and training
In 2013, 57% of Boeing's total revenues came from non-US customers. The remaining 43% came from the US Department of Defense (DoD), the National Aeronautics and Space Administration (NASA), and other US government contracts.
3Q14 performance analysis
The Boeing Company successfully delivered another strong performance during the third quarter with a 7% year-over-year rise in its revenues to $23.8 billion and a 19% rise in non-GAAP (or generally accepted accounting principles) EPS (or earnings per share) to $2.14. Operating earnings also increased by 13% year-over-year to $2.4 billion. This growth resulted from solid operating performance across the company's production programs and service businesses.
3Q14 was Boeing's fourth successive successful quarter. It ended with a record backlog of $490 billion, including net orders of $73 billion for the quarter and cash and investments totaling $10.2 billion.
The next article in this series will look at Boeing's business segments.