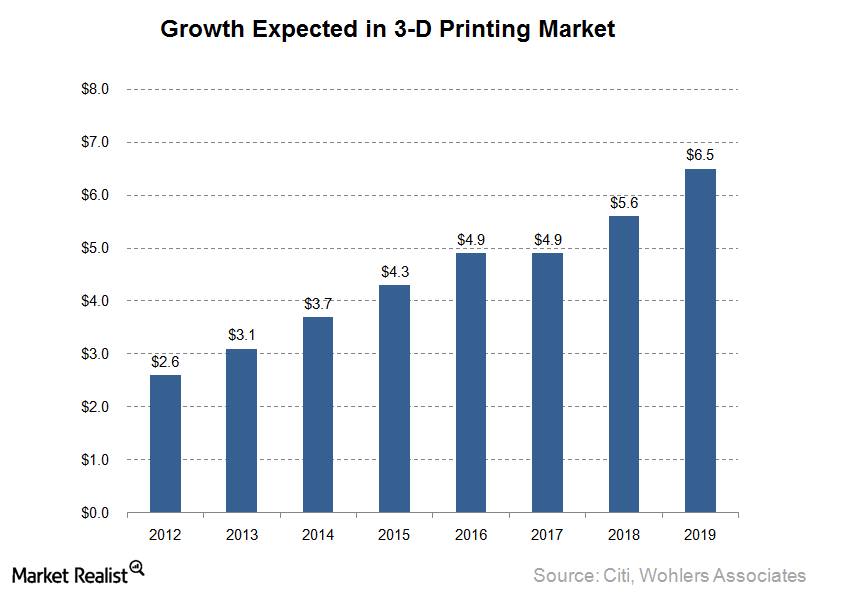 HP looks to rapid growth in 3D printing industry
Rapid growth expected in 3D printing market
Market intelligence firm IDC expects the worldwide 3D printer market to experience tremendous unit and revenue growth between 2012 and 2017. Compound annual growth rates are supposed to be 59% and 29%, respectively. According to Gartner's Research VP Pete Basiliere, the "3D printer market is at an inflection point." According to Wohlers Associates, and as the below chart shows, the 3D printing market has the potential to grow to $6.5 billion by 2019 from less than $3.5 billion presently. Finally, according to Business Insider, Stratasys, Ltd. (SSYS) leads the 3D printing space with a 57% market share. 3D Systems is another leading player.
Article continues below advertisement
Myriad industries adopt 3D printing technology
3D printing is seeing rapid adoption in the automotive, aerospace, and medical industries as well as in many others. In July 2014, Amazon.com, Inc. (AMZN) announced its decision to collaborate with two smaller 3D printing firms to offer 200 unique print-on-demand products.
HP Multi Jet Fusion scores above current technologies
According to Gartner, there are seven technologies making up the current 3D printing industry. Ahead of all others, material extrusion is expected to lead growth in the market until 2018 because of the "significant worldwide consumer adoption of 3D printers costing less than $1,000."
Lower prices, improved performance, and expanded global availability have led to the growth of consumer 3D printers. Key market drivers for the enterprise 3D printer "are the viability of 3D printing technologies for prototyping and manufacturing coupled with lower 3D printer costs, improved quality, and a wider range of materials," says Gartner.
BAE Systems and Siemens Ltd. (SIEMENS) have also expressed interests in this space. As well, General Electric Company (GE) announced in 2014 that it would be using 3D printing to improve its solar panels.