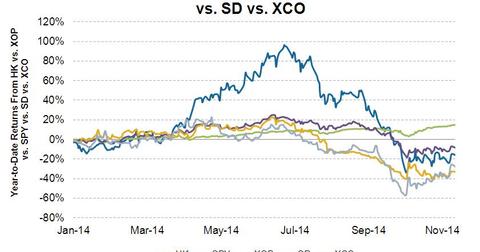 Halcon's market underperformance signals a sedate 2015 outlook
By Alex Chamberlin

Nov. 20 2020, Updated 11:28 a.m. ET
Halcon Resources is underperforming in the market
Year-to-date (or YTD) 2014, Halcon Resources (HK) has underperformed in comparison to the industry and the broader market, signaling a sedate 2015 outlook. HK's stock has posted a negative return of ~15.8% year-to-date (or YTD). On an annualized basis, this means a negative ~17.5% return. HK is a component of the SPDR S&P Oil & Gas Exploration & Production ETF (XOP).
Article continues below advertisement
In comparison, XOP has returned a negative ~8.33% YTD, or negative ~9.2% annualized, and the broad market ETF SPDR S&P 500 (SPY) is up ~14.8% YTD, or ~16.5% annualized.
However, returns from HK had been dramatic until late July, but they have come down significantly since then. From as low as negative 14% in mid-January, the company had racked up gains of up to ~84% in late July.
Other upstream operators include EXCO Resources (XCO) and Sandridge Energy (SD). These companies have grossly underperformed against HK's returns and the market returns. XCO's and SD's year-to-date annualized returns are -30.2% and -36.2%, respectively.
Why energy stocks' returns have been low
Returns on most energy stocks have tumbled since June, when crude price started to crash. West Texas Intermediate (or WTI) price, which is the producers' benchmark price in the US, has decreased nearly 30% since then. This has negatively affected revenues and margins of the oil producers. In response, some of the upstream oil companies have gradually started to mark down investment.
Halcon's 2015 plans
In light of these trends, Halcon Resources now projects a lower rig count for 2015. It plans to operate six rigs in 2015, five less than it had planned at the beginning of the year. It has brought down the 2015 drilling and completion budget to a range of $750 to $800 million. However, the company expects 15% to 20% growth in production, based on higher drilling productivity in the Williston Basin and El Halcon assets.
Read Market Realist's article on Must-know: Top energy stocks after the recent energy decline to know how the oil price fall affected the energy sector.