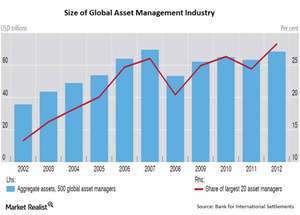 The lay of the land in the asset management sector
By Saul Perez

Dec. 31 2014, Updated 3:10 p.m. ET
What is the asset management industry?
The asset management industry generally refers to companies that manage financial investments on behalf of clients in exchange for a fee. Sometimes the term "asset management" is also used to denote the upkeep of a plant, machinery, or equipment in order to generate better returns.
Although this isn't what we're referring to here, this description is a good analogy and helps us understand what we are talking about. For just as a company manages its plant, machinery, or equipment to get optimal return on its output, an asset management company manages financial assets to get the optimal return a customer desires.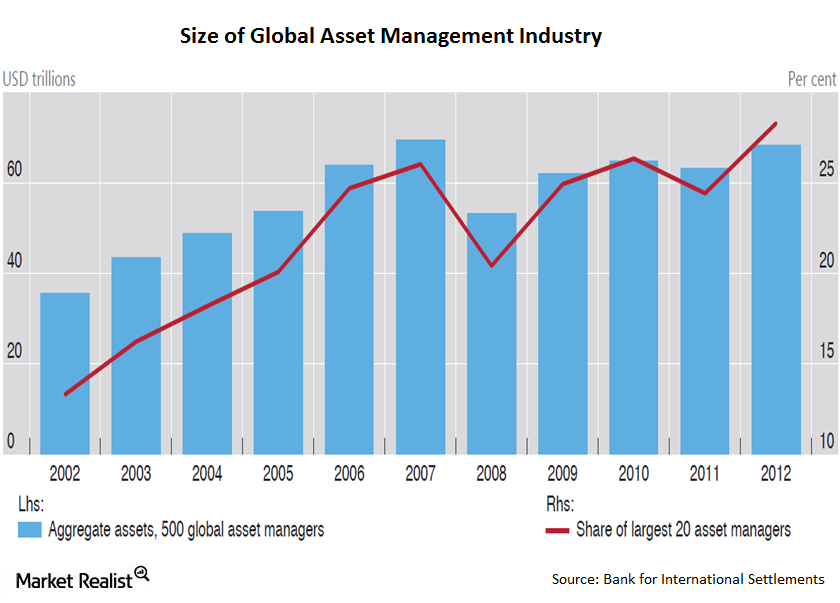 Article continues below advertisement
The asset management industry can shape how well you live your life
Asset management isn't like the consumer goods or technological products you use daily. The services provided by the asset management industry can help you maximize the value of your savings so that you can attain a long-term goal such as buying a house. The role of the asset management industry in retirement planning is probably also something you're well aware of.
Most likely, you'll have invested in a mutual fund, an index fund, or an exchange-traded fund at some point. It may have been run by a large asset management company such as BlackRock (BLK) or State Street Corporation (STT). Or, it may have been managed by a smaller player such as Legg Mason (LM) or a niche player such as Janus Capital Group (JNS).
Even if you haven't bought into a fund, you may have been exposed to asset managers by holding a diversified ETF such as the SPDR S&P 500 ETF Trust (SPY).
The chart above shows the sheer scale of global asset managers.
In this series, we'll look at the broad strokes of the asset management industry. We'll discuss the major players, how the industry functions, revenue and profitability, and review the popular products in detail.