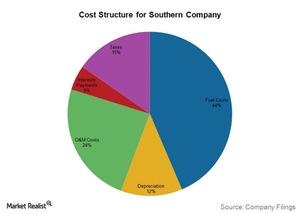 Cost structure sets Southern Company above its competitors
Southern Company's cost elements
The total expenses for Southern Company (SO) in 3Q14 were $4.2 billion. This includes operating costs of $3.6 billion and interest and tax expenses of $0.6 billion. The operating costs consist of fuel expenses, operating and maintenance expenses (or O&M), and depreciation expenses.
Article continues below advertisement
Article continues below advertisement
Fuel is the major cost
Like most power companies within the Utilities Select Sector Standard & Poors depositary receipt (or SPDR) (XLU), fuel cost is the major component of costs associated to produce electricity for Southern Company. The total cost for fuel to produce electricity in Q314 was $1.9 billion, which is nearly 44% of Southern Company's total cost in the quarter.
The following are some of Southern Company's other expenses as a percentage of its total costs:
Operations and maintenance (or O&M): 24%
Depreciation: 12%
Interest expenses on bonds issued: 5%
Other taxes and income tax: 15%
Fuel cost per kWh as a measure of efficiency
Kilowatt hour (or kWh) is the basic unit of electricity output. Fuel costs per kWh can be used to evaluate the efficiency of a power producer to produce electricity. Southern Company's fuel cost per kWh is lower than its competitors' in the regulated utility business.
The company's fuel cost per kWh of electricity produced is $.0337. In comparison, the fuel costs per kWh for Duke Energy (DUK) and Dominion Resources (D) are $.0348 and $.0378, respectively. NextEra Energy (NEE) produces power at a fuel cost of $.0476 per kWh.