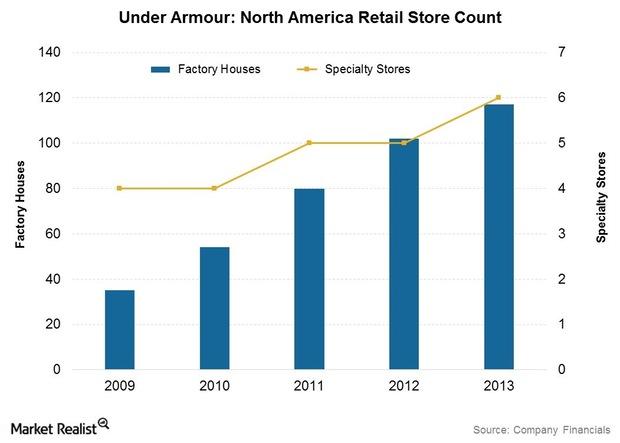 The Cogs In The Under Armour Supply Chain
<p>Under Armour: Sourcing, manufacturing, and distribution decisions Under Armour, Inc. (UA) manufactures virtually nothing in-house. Production is outsourced to third-party manufacturers overseas. This is common practice in the apparel industry among companies including the The Gap, Inc. (GPS) and Fossil, Inc. (FOSL). These companies are held by the Consumer Discretionary Select Sector SPDR ETF (XLY), as are United Armour, or [&hellip;]</p>
Under Armour: Sourcing, manufacturing, and distribution decisions
Under Armour, Inc. (UA) manufactures virtually nothing in-house. Production is outsourced to third-party manufacturers overseas. This is common practice in the apparel industry among companies including the The Gap, Inc. (GPS) and Fossil, Inc. (FOSL). These companies are held by the Consumer Discretionary Select Sector SPDR ETF (XLY), as are United Armour, or UA, and NIKE, Inc.
In 2013, Under Armour's, or UA's, product manufacturers operated out of 19 countries:
Asia – 66%
Central and South America – 14%
Middle East – 15%
Mexico – 5%
While there's an obvious cost advantage to manufacturing overseas, the practice does leave the company vulnerable to foreign macroeconomic factors, as well as non-local supply chain disruptions.
Article continues below advertisement
Article continues below advertisement
Suppliers
The suppliers of raw materials and fabrics used in production must be pre-approved by UA. Suppliers are based in countries including China, Malaysia, Mexico, Taiwan, and Vietnam. The supplier base is small though. Between ~50 and 55% of UA's fabric originates from six suppliers. The company is trying to strengthen the supply chain by seeking new supply sources.
That said, the firm's manufacturing base is wider, with ~65% of production coming from 14 manufacturers. Major operations include Jordan, Philippines, China, Nicaragua, Malaysia, Cambodia, Indonesia, Vietnam, Mexico, El Salvador, and Honduras.
Two subsidiaries, based in Hong Kong and Guangzhou, China, provide support for the company's manufacturing, quality assurance, and sourcing needs for apparel and footwear and accessories.
Distribution
UA's products are sold through a combination of wholesale and retail sales. The company leases distribution facilities in California and Maryland to channel products through its wholesale and retail networks in North America. It also distributes products through third-party distributors located in Canada, New Jersey, and Florida.
Outside North America, the company distributes products mostly through third-party logistics providers and independent distributors. The company has recently begun selling directly in certain international markets including Mexico.