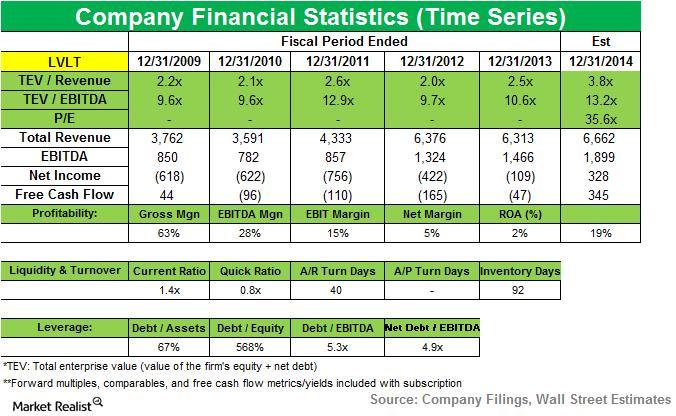 Coatue Management adds new position in Level 3 Communications
Level 3 Communications position
Coatue Management added a new position in Level 3 Communications Inc. (LVLT) during the third quarter, which ended in September. The stock accounted for 1.46% of the fund's 3Q14 portfolio.
Article continues below advertisement
About Level 3 Communications
Level 3 Communications Inc. is a Fortune 500 company that provides local, national, and global communications services to enterprises, government entities, and carrier customers. The company's portfolio includes the following services:
fiber and infrastructure solutions
IP-based voice and data communications
wide-area Ethernet
video and content distribution
data center services
cloud-based solutions
Reports strong 3Q14 earnings
Level 3 reported total revenue of $1.629 billion for the third quarter of 2014, compared to $1.569 billion for the third quarter of 2013.
In the third quarter, the company generated net income of $85 million, $0.36 basic income per share, and $0.35 diluted net income per share. This includes $7 million in expenses associated with the tw telecom transaction.
The 3Q14 net loss was $0.09 per share. Included in net loss per share were $0.13 per share of severance charges and $0.08 per share of refinancing charges.
Core network services (or CNS) revenue was $1.482 billion in the third quarter, having increased 5.8 percent year-over-year on a constant currency basis.
Free Cash Flow was positive $117 million in 3Q14, compared to negative $90 million in the third quarter of 2013.
Capital expenditures were $204 million for the third quarter of 2014, compared to $194 million for the third quarter of 2013. The increase was due to the acquisition of tw telecom.
Article continues below advertisement
Acquires tw telecom
Level 3 completed its acquisition of tw telecom on October 31, 2014. The transaction further positioned Level 3 as a global leader in the rapidly evolving business communications market.
Thanks to this transaction, Level 3 now provides global customers with one of the most comprehensive product portfolios in the industry. Level 3's international network and deep metro footprint across North America support this portfolio.
As part of the deal, tw telecom stockholders received $10 cash and 0.7 shares of Level 3 common stock for each share of tw telecom common stock owned at closing.
Expands network in Georgia
Level 3 announced plans to expand its network in Alpharetta, Georgia, a technology hub in the greater metropolitan Atlanta area. This expansion will provide greater route diversity and increased capacity across the market so enterprises can focus on streamlining operations and growth. Upon project completion, the company will have more than 300 on-net buildings and approximately 265 metro route miles in the greater Atlanta area. Hundreds of buildings will be securely and directly connected to the company's network.
Coatue's other 3Q14 activities
Coatue Management's third-quarter 13F filing revealed a new position in Zillow Inc. (Z). The fund sold its positions in Salesforce.com Inc. (CRM), 21Vianet Group Inc. (VNET), and Lululemon Athletica (LULU). Coatue also added to its positions in LinkedIn Corp. (LNKD), Baidu Inc. (BIDU), eBay Inc. (EBAY), and Facebook Inc. (FB). The fund reduced its stakes in Charter Communications (CHTR), Liberty Global plc (LBTYA), and CBS Corp. (CBS).
The next part of the series will highlight Coatue's new position in Zillow Inc.