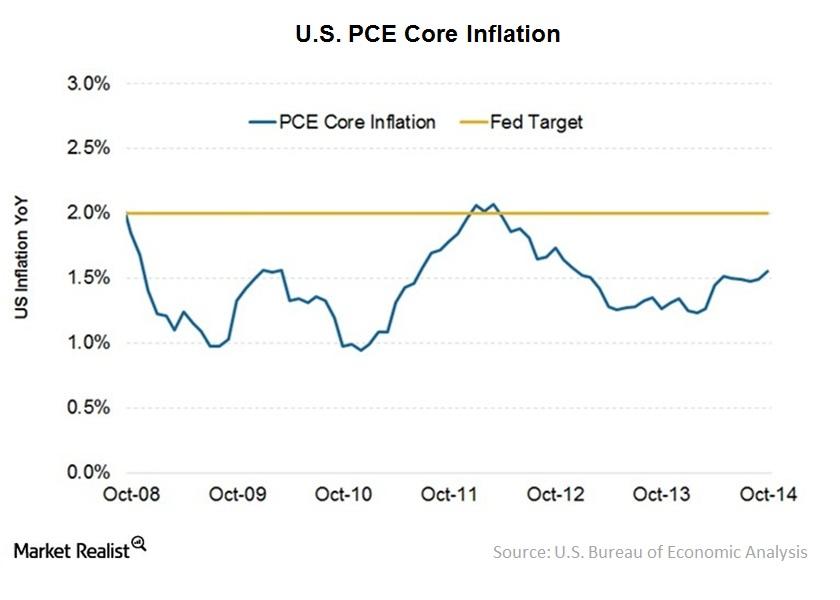 Why The Casino Business Is Affected By Inflation
Personal consumption expenditure
In the US, the inflation rate is reported by the US Bureau of Labor Statistics. The inflation rate in the US was 1.7% in October 2014. The fall in energy prices was enough to offset higher food and shelter costs. Prices didn't change from the previous month.
As the economy continues to strengthen, the Fed monitors price increases using the PCE (personal consumption expenditures) price index. The index measures individuals' personal expenditures for purchasing goods and services.
Article continues below advertisement
Article continues below advertisement
The PCE price index increased 1.6% in the 12 months through October 2014. This is the largest gain since December 2012. This price measure continues to run below the Federal Reserve's 2% inflation target. The above chart compares the PCE total with the PCE core. It excludes volatile food and energy costs. As of October 2014, the core PCE index was slightly over 1.5%.
Key takeaways
When inflation is low, consumers have greater purchasing power. They have a higher spending capacity. Greater purchasing power is a positive sign for casino resort companies—like Las Vegas Sands (LVS), MGM Resorts (MGM), Wynn Resorts (WYNN), Caesars Entertainment (CZR). It's also positive for ETFs—like the Consumer Discretionary Select Sector SPDR Fund (XLY). XLY tracks leisure companies.
Low inflation results in lower interest rates. This could help companies borrow at cheap rates in order to finance future operations. The VIP gamblers also benefit. More credit becomes available to them at lower rates. The credit is available from junket operators.