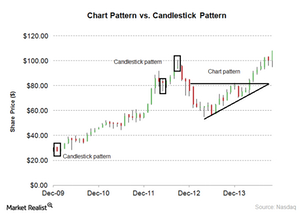 What Are Candlestick Patterns in Technical Analysis?
Candlestick patterns
In technical analysis, candlestick patterns are a combination of one or more candlesticks. The pattern forms over short time periods.
Article continues below advertisement
Candlestick pattern versus chart pattern
The following chart shows the candlestick pattern and chart pattern for Apple's (AAPL) stock.
Candlestick patterns form as a result of stock prices' daily supply and demand forces. Candlestick patterns form over a short time period. Chart patterns form due to the change in prices due to psychological and fundamental factors over long time periods.
Candlestick patterns indicate the trend direction for a short time period. In contrast, chart patterns indicate the trend direction for a long time period. Chart patterns can also show a change in trend direction. Candlestick patterns are used for short-term entry and exit points. Chart patterns are used for long-term buy and sell signals.
The major candlestick patterns are:
Doji
Hammer
Hanging Man
Inverted Hammer
Shooting Star
Morning Star
Evening Star
Three Black Crows
Three White Soldiers
Bullish Engulfing
Bearish Engulfing
Dark Cloud Cover
Piercing
Marubozu
Spinning Top
Abandoned Baby
We'll discuss these candlestick patterns and their importance later in this series.
Key stocks that show candlestick patterns
Recently, we've seen a Neutral Doji pattern in Atlas Financial Holdings (AFH). We've seen an Inverted Hammer pattern in Ares Commercial Real Estate Corporation (ACRE). In contrast, Apartment Investment and Management Company (AIV) is showing a Shooting Star pattern. The Long-Legged Doji is seen in the SPDR S&P 500 (SPY). American Tower Corporation (AMT) is showing an Evening Star pattern.