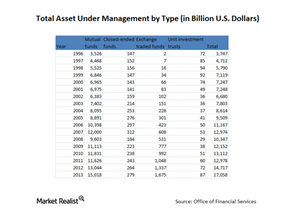 How big is the asset management industry?
Size of the asset management industry
Can you take a guess as to how big the asset management industry is? Audited and verified annual figures at the end of 2013 indicate that total assets under management of US registered investment companies equalled nearly $17.1 trillion. How big is that number? To put things into context, the total GDP (gross domestic product) of the US was $16.8 trillion. So, the assets under management were greater than the GDP of the US at the end of 2013.
Article continues below advertisement
The industry has grown at a rapid rate
The industry has grown rapidly in the last 15 years, as you can see in the chart above. Verifiable and audited data exists for the last 18 years. In 1994, total assets under management stood at $3.8 trillion. In 18 years, assets under management have increased by 4.5 times. Assets under management at the end of 2012 stood at $14.8 trillion.
Some players such as BlackRock (BLK) and State Street (STT) have grown at a rapid rate, while others, such as Legg Mason (LM) have grown at a more moderate pace. Some full-service banks that also offer asset management services, such as Bank of America (BAC), are also part of the SPDR S&P 500 ETF Trust (SPY).
Biggest contributor to asset management growth
The biggest source of growth for the industry is the US household. At the end of 2013, 22% of US household financial assets were invested in investment or asset management companies. What's more, US household investment in asset management companies has increased 11 times from a 2% level in 1980.
As Baby Boomers retire, and the average age of the US population rises, there will be an increasing reliance on asset management companies to manage financial assets and generate funds for retirement.