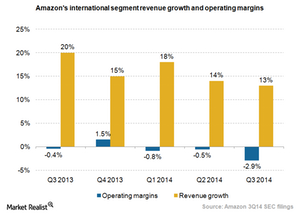 Why did Amazon's international business growth disappoint?
Amazon's international revenue growth rate has declined
In the previous part of this series, we saw how Amazon's (AMZN) revenue growth at its Media segment has declined dramatically over the last few quarters. Amazon's international business growth has also been disappointing. As the chart below shows, both Amazon's revenue growth and operating margins for its international segment have declined over the past few quarters. Its year-over-year revenue growth has declined from 20% in 3Q13 to 13% in 3Q14, while its operating margins have declined from -0.4% to -2.9%.
Article continues below advertisement
First let's talk about the revenue growth slowdown. During the company's 3Q14 earnings conference call, Amazon's management mentioned that the failure of its Fire smartphone meant that it had to bear $170 million worth of charges. Out of this total, $25 million in charges came from international markets. Another reason for this slowdown was slow growth in Japan ever since consumption tax increased there in late 1Q14.
Amazon's international operating margins are also declining
Amazon's loss of leverage because of slow revenue growth was one of the main reason for its operating margin decline. However, the company is also invested heavily in advance of the holiday season. It added fulfillment centers and infrastructure capacity to cater to the increase in demand during the holiday season. The company is majorly investing in India, Italy, Spain, and China.
A few months back, Amazon announced that it will invest $2 billion in the Indian e-commerce market to take on eBay (EBAY) and local players such as Flipkart and Snapdeal. In fact, there's a rumor that Amazon is in talks to acquire Indian e-commerce player Jabong. Despite declining margins, Amazon believes that its growth opportunity in international markets is big.
Not only Amazon but also Wal-Mart (WMT) has big plans in international markets, especially China. Wal-Mart has taken more than a 50% stake in Yihaodian, which is a specialized online grocery store in China.
According to a report from the Wall Street Journal, Alibaba (BABA) remains by far the largest player in the Chinese e-commerce market, with a more than 50% market share. The report also mentioned that Wal-Mart is the fourth-largest US player in the Chinese e-commerce market, with Amazon, Apple (AAPL), and Staples (SPLS) ahead of it. To read more on Wal-Mart's efforts, see Why Walmart plans to grow in the Chinese e-commerce market.