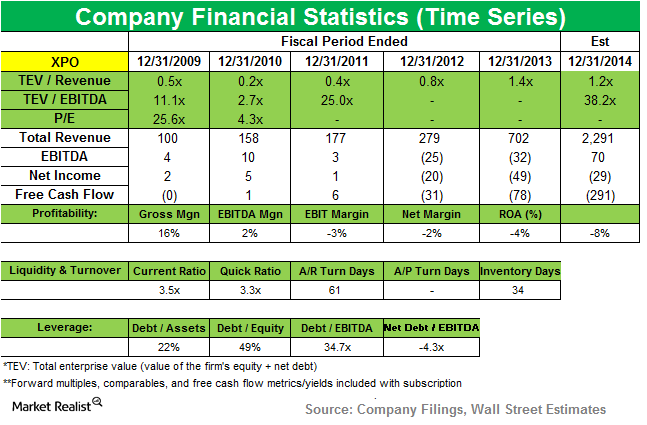 OTPP opens new position in XPO Logistics
OTPP and XPO Logistics
The Ontario Teachers' Pension Plan (or OTPP) added a new position in XPO Logistics Inc. (XPO) during the third quarter that ended in September. The position accounted for 0.46% of the fund's total portfolio.
Article continues below advertisement
Overview of XPO Logistics
XPO Logistics Inc. is one of the largest asset-light providers of transportation logistics services. It's the leading provider of highly-engineered, technology-enabled contract logistics in North America. It provides services through its four segments.
The freight brokerage segment places shippers' freight with qualified carriers—mainly trucking companies and rail carriers.
The expedited transportation segment facilitates urgent shipments though independent over-the-road contractors and air charter carriers.
The freight forwarding segment arranges domestic and international shipments using ground, air, and ocean transport through a network of agent-owned and company-owned locations.
The contract logistics segment provides value-added warehousing and distribution, reverse logistics, transportation management, freight bill audit and payment, lean manufacturing support, aftermarket support, and supply chain optimization for XPO's clients.
XPO sees investment from PSP Investments, GIC, and OTPP
At the beginning of September, XPO announced an agreement under which PSP Investments, GIC—Singapore's sovereign wealth fund, and OTPP will invest a total of $700 million in XPO to accelerate the company's growth strategy. The company said it intends to use the net proceeds mainly for unspecified acquisitions. The deal involved the sale of newly issued common stock and preferred stock to the investors. After shareholder approval, the investors would hold ~22% of XPO's common stock on a fully-diluted basis.
Article continues below advertisement
The transaction prompted XPO to raise its 2017 financial targets to ~$9 billion of revenue and $575 million of earnings before interest, tax, depreciation, and amortization (or EBITDA). This is up from the previous targets of $7.5 billion and $425 million, respectively. OTPP noted in a release that XPO's management's plans "align with our approach to long-term value creation."
Acquires New Breed Holding Company 
In July, XPO agreed to acquire New Breed Holding Company. It provides highly-engineered contract logistics solutions for large multi-national and medium-sized corporations and government agencies in the US. The purchase price was $615 million. With the acquisition, XPO said it "expects to gain entry into the most desirable sector of contract logistics—customized services with solid margins, high contractual revenue renewal rates, and low cyclicality."
Article continues below advertisement
Posts 400% revenue growth 
XPO's total net revenue for 3Q14 surged 402.7% to $175.1 million—from $34.8 million in 3Q13. The growth was driven by acquisitions of New Breed, Pacer, 3PD, and NLM. It was also driven by 58% organic growth at its Freight Brokerage locations.
XPO's adjusted net loss narrowed to $7.3 million, or a loss of $0.13 per share, for the quarter—from $10.9 million, or a loss of $0.45 per share, in the same quarter last year. Adjusted EBITDA was $24 million for the quarter. It was up from a $7 million loss in the same quarter last year.
Management said on the earnings call that shippers have been concerned about tight capacity across truck and rail networks and truck driver shortages in the US. This led them to forge relationships with third-party logistics providers like XPO. This was a "market dynamic" working in its favor. They also added that XPO was "in discussions with a number of attractive acquisition prospects in a very active pipeline." The targets are in its existing lines of business—including contract logistics, last mile, and freight brokerage.
XPO reiterated its full year 2014 outlook for an annual revenue run rate of more than $3 billion by December 31. It also stated its annual EBITDA run rate of at least $150 million by December 31.
OTPP's other positions in 3Q14
As discussed earlier, OTPP added new positions in The Priceline Group Inc. (PCLN), XPO Logistics Inc. (XPO), United Technologies Corp. (UTX), Grupo Aval Acciones y Valores S.A. (AVAL), and Alibaba Group Holding (BABA). Top positions exited in 3Q14 were in Melco Crown Entertainment (MPEL) and HollyFrontier Corp. (HFC).
In the next part of this series, we'll discuss OTPP's new position in United Technologies.