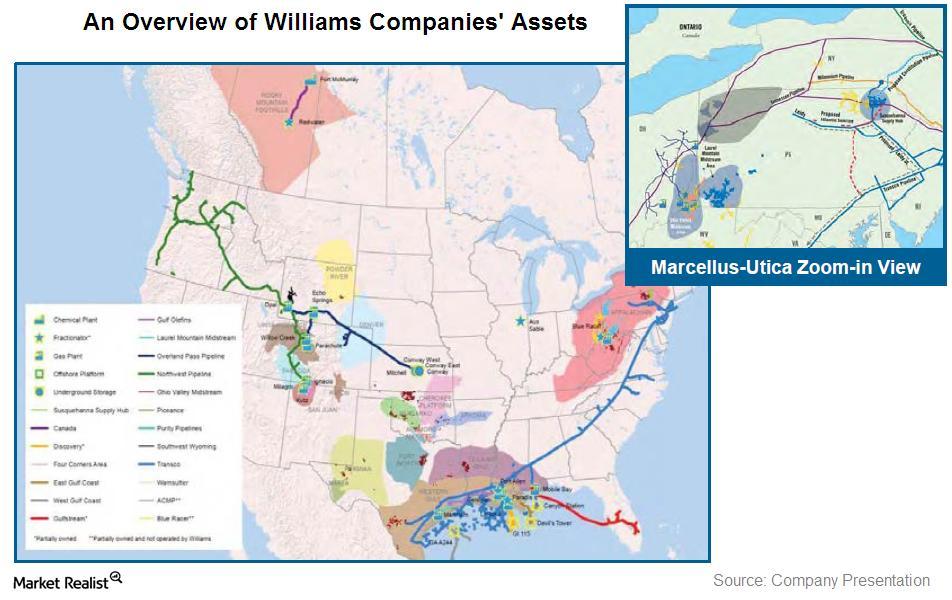 Must-know: An overview of Williams Companies
Williams Companies
Williams Companies Inc. (WMB) engages in the energy transport and processing infrastructure business. Its diversified operations include interstate gas pipelines, local midstream operations, and olefins production.
WMB's assets are mainly located in the U.S. However, it has operations in Canada. The operations in Canada are related to oil sands processing.
Other companies in the midstream energy processing and transportation space include Enterprise Products Partners (EPD) and Spectra Energy Corporation (SE). Some of these companies are part of the Energy Select Sector SPDR (or XLE) and the Alerian MLP ETF (AMLP).
WMB earns its revenues through its subsidiaries:
Article continues below advertisement
Williams Partners – WMB owns 64% limited partner (or LP) interest and 100% general partner (or GP) interest in Williams Partners LP (or WPZ). WPZ is a master limited partnership (or MLP). It holds the majority of the Williams groups' gas pipelines and midstream operations.
Williams NGL & Petchem Services – Mainly consists of WMB's Canadian midstream business. It produces olefins for petrochemical feedstocks. Olefins are an unsaturated chemical compound—like natural gas liquids (or NGLs)
Access Midstream Partners (ACMP) – It's also a MLP. It operates midstream assets in some of the major unconventional shales in the U.S. It provides gathering, processing, treating, and compression services to Chesapeake Energy (or CHK) and other customers.
Learn more about WMB's assets in "An overview of Williams Companies' primary businesses and assets."
ACMP acquisition and its proposed merger with Williams Partners
On July 1, WMB completed the acquisition of Access Midstream Partners (ACMP) from Global Infrastructure Partners II for $5.99 billion. The deal accelerated WMB's transformation to a pure-play GP holding-company structure.
Also, subject to the board members' approval, WMB proposed merging WPZ into ACMP—at a ratio of 0.866 ACMP units per WPZ unit. WMB expects that the transaction will be complete by 2015.
After the merger, WMB plans to drop down its remaining business to WPZ. It will become a "pure-play" GP. Read Part 9 in this series to learn about WMB's amended proposal of the ACMP-WPZ merger.
You can also read "Williams Companies and Access Midstream merger."
Williams' shares increase
In the past year, WMB shares are up ~54%. Its share price went up by ~3% on October 29—the day it released its 3Q14 results. It's important to note that on June 16 alone, it spiked ~19% after it announced that it would acquire a controlling stake in ACMP.
In the next part of the series, we'll discuss WMB's 3Q14 results.