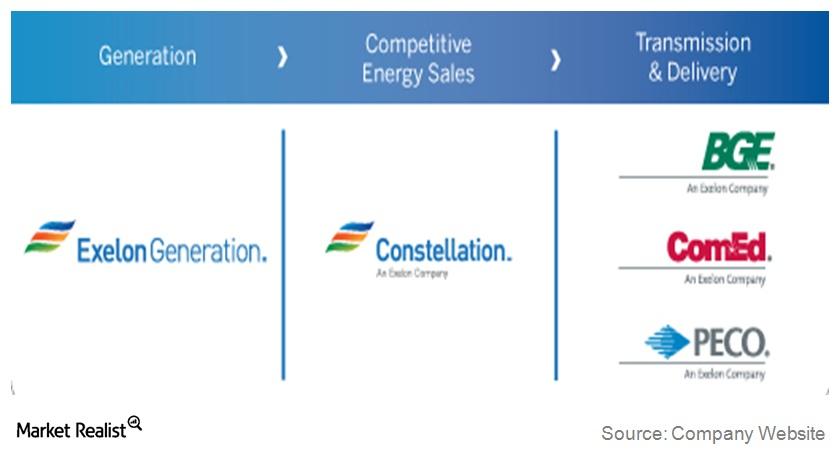 A brief overview of Exelon's power operations
Exelon's business segments
Exelon Corporation (EXC) operates in both regulated and unregulated markets through its subsidiaries. In the regulated segments, Exelon's functions are limited to transmission and delivery of power to end customers. These operations fetch Exelon fixed commissions based on per unit of electricity delivered.
On the other hand, Exelon's electricity generation segment is part of the unregulated segment. In this segment, prices are market dependant and fluctuate with changes in demand and supply.
Power generation business
Article continues below advertisement
Article continues below advertisement
Power generation is a significant segment for Exelon, generating more than 60% of its total revenue. Exelon Generation is operated by its subsidiaries Exelon Nuclear, Exelon Power, and Constellation. Exelon Nuclear manages power generated from nuclear energy, while the power generated from other sources is handled by Exelon Power.
Nuclear Power is separate from other sources of power because nuclear makes up a major part of the company's electricity output. Although structurally, Constellation is part of Exelon Generation, it's also involved in electricity sales in wholesale markets.
Transmission and delivery of electricity
The energy delivery business provides the other 40% of the company's revenues. Exelon serves almost 6.6 million customers with electricity through its three subsidiaries:
BGE – 1.2 million electricity consumers in Maryland

ComEd

– 3.8 million customers in northern Illinois
PECO – 1.6 million customers in southeastern parts of Pennsylvania
In terms of customer base, Exelon is second only to Duke Energy Corp. (DUK) in the United States. Duke Energy has 7.2 million customers. Other utility companies with large customer bases are PG&E Corporation (PCG) and Edison International (EIX) with 5.2 million and 4.9 million electric customers, respectively. All of these companies are part of the Select Sector Utilities Select Sector SPDR Fund (XLU) .
In addition to electricity, Exelon supplies natural gas to 1.2 million consumers across the US.