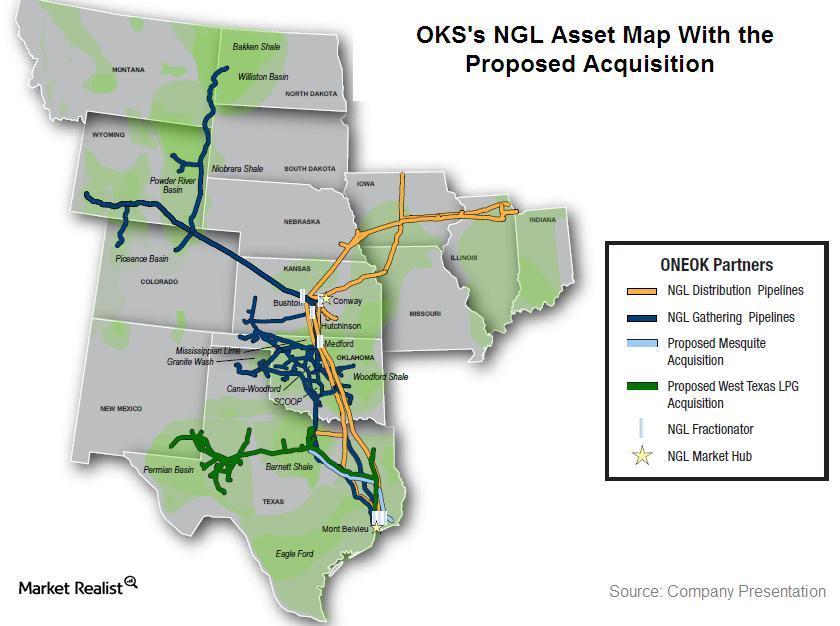 Why ONEOK Partners acquires Permian assets from Chevron
The acquisition
On October 27, ONEOK Partners (OKS) announced that it agreed to acquire Chevron Corporation's (CVX) natural gas liquids (or NGLs) pipeline assets. The assets are based in the Permian Basin in west Texas and southeastern New Mexico.
Currently, the pipeline assets are owned by West Texas LPG Pipeline Limited Partnership (or West Texas LPG) and Mesquite Pipeline—affiliates of CVX. After the transaction, OKS will become the 80% owner of West Texas Pipeline. It will be the 100% owner of Mesquite. It will also operate the entire pipeline system.
Martin Midstream Partners LP (or MMLP) is a Texas-based midstream energy master limited partnership (or MLP). It owns the remaining 20% interest in West Texas LPG.
OKS is part of the Alerian MLP ETF (AMLP). Kinder Morgan Energy Partners (KMP) is a significant part of AMLP. CVX is part of the Energy Select Sector SPDR ETF (XLE).
Financial terms and other conditions
The acquisition's transaction value is $800 million. The transaction is expected to close by 4Q14. It's subject to anti-trust clearance from the Federal Trade Commission (or FTC). The FTC oversees mergers and acquisitions. It promotes fair competition by enforcing certain antitrust laws.
ONEOK Partners and Chevron Corporation
Before going into the acquisition's details and its implications for OKS, it's important to understand OKS and CVX's assets and operations.
OKS is one of the largest MLPs in the U.S. It gathers, processes, stores, and transports natural gas in the U.S. It also owns NGL pipeline, storage, and fractionation assets. Through its pipeline, OKS connects NGL supply in the Mid-Continent and Rocky Mountain regions with key market centers.
Article continues below advertisement
CVX is based in California. It's an energy company. It's focused on exploration and production. It refines, markets, and transports oil and gas across more than 180 countries. It's involved in geothermal and chemical manufacturing and sales. It also works in power generation. Chevron's operations are divided into upstream energy production and downstream operations.
Learn more about CVX in "Chevron Corporation: A must-know brief overview."