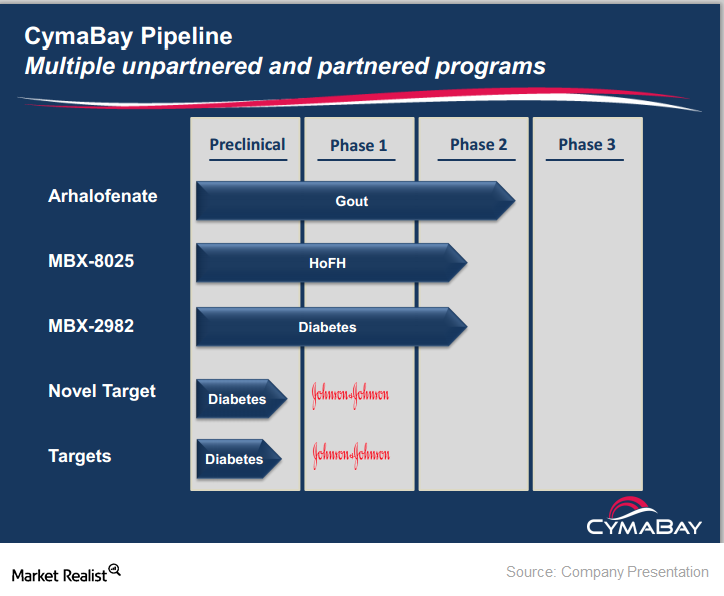 Point72 Asset Management takes position in CymaBay Therapeutics
Position summary
Steven Cohen's Point72 Asset Management added to its positions in LogMeIn, Inc. (LOGM), AMC Entertainment Holdings Inc (AMC), Bloomin' Brands Inc (BLMN), Insmed Incorporated (INSM), Kraton Performance Polymers, Inc. (KRA), Kindred Healthcare, Inc. (KND), Aegerion Pharmaceuticals, Inc. (AEGR), and Lumber Liquidators Holdings, Inc. (LL). New positions were initiated in Pier 1 Imports Inc (PIR), Stage Stores, Inc. (SSI), CymaBay Therapeutics Inc (CBAY), and Applied Genetic Technologies Corporation (AGTC).
Point72 Asset Management disclosed a new position in CymaBay Therapeutics Inc (CBAY). An October 13G filing reveals the fund acquired 844,883 shares, representing a 5.8% passive stake in CymaBay.
Overview of CymaBay Therapeutics
CymaBay Therapeutics is a clinical-stage biopharmaceutical company formerly known as Metabolex. It develops therapies to treat metabolic and rare diseases with high unmet need.
The company underwent a capital restructuring in December and raised $38 million. It listed on the over-the-counter market earlier this year and proceeded to list on NASDAQ in June.
CymaBay product candidates
Arhalofenate, the company's lead product candidate, is being developed for the treatment of gout. CymaBay has completed three phase-two studies of Arhalofenate in gout patients. The product consistently reduced flare incidence and duration, and lowered serum uric acid in patients.
In September, the company said it's completed enrollment in its ongoing phase-2b clinical trial of Arhalofenate in patients with gout. CymaBay expects to announce top-line results from the phase-2b study in the second quarter of 2015.
Article continues below advertisement
CymaBay's second product candidate, MBX-8025, demonstrated favorable effects on cholesterol, triglycerides, and markers of liver health in a phase-2 clinical trial in patients with mixed dyslipidemia. MBX-8025 is currently being considered for further development in certain orphan, or unique, diseases such as Homozygous Familial Hypercholestorolemia, severe hypertriglyceridemia, and primary biliary cirrhosis.
Another candidate, MBX-2982, is a GPR-119 agonist that lowers glucose in patients with type 2 diabetes.
Raises $22.8 million from public offering
In July, CymaBay raised around $22.8 million from a public offering of 4,600,000 common shares at a price of $5.50 per share.
The company's quarterly filing notes it hasn't generated any income from operations. CymaBay said, "since its date of incorporation through June 30, 2014, it has an accumulated deficit of $362.1 million, primarily as a result of expenditures for research and development and general and administrative expenses."
In the next part of this series, we'll discuss Point72's new position in clinical-stage biotechnology firm Applied Genetic Technologies.