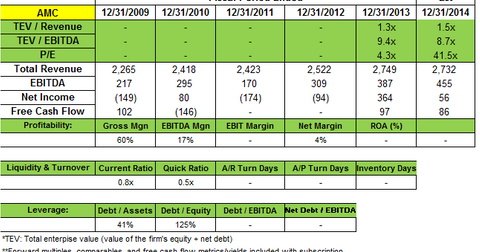 Point72 Asset Management increases position in AMC Entertainment
By Samantha Nielson

Updated
Position summary
Steven Cohen's Point72 Asset Management added to its positions in LogMeIn, Inc. (LOGM), AMC Entertainment Holdings Inc (AMC), Bloomin' Brands Inc (BLMN), Insmed Incorporated (INSM), Kraton Performance Polymers, Inc. (KRA), Kindred Healthcare, Inc. (KND), Aegerion Pharmaceuticals, Inc. (AEGR), and Lumber Liquidators Holdings, Inc. (LL). New positions were initiated in Pier 1 Imports Inc (PIR), Stage Stores, Inc. (SSI), CymaBay Therapeutics Inc (CBAY), and Applied Genetic Technologies Corporation (AGTC).
Point72 Asset Management added to its position in AMC Entertainment Holdings Inc (AMC). A 13G filing in July noted that the fund owns 1,079,362 shares. This is up from 316,900 shares as per the 2Q14 portfolio. The filing said the fund owns a passive stake of 5% in AMC.
Overview of AMC Entertainment
AMC is one of the world's leading theatrical exhibition companies. As of June 30, 2014, it owned, operated or had interests in 342 theatres and 4,968 screens. AMC is the largest IMAX exhibitor in the world with a 45% market share in the United States.
Article continues below advertisement
AMC's theatrical exhibition revenues are generated primarily from box-office admissions and theatre food and beverage sales. The balance of the revenues are generated from ancillary sources, including on-screen advertising, fees earned from the AMC Stubs customer frequency membership program, rental of theatre auditoriums, income from gift card and packaged tickets sales, on-line ticketing fees, and arcade games located in theatre lobbies.
Box-office admissions are its largest source of revenue. The company predominantly licenses first-run films from distributors owned by major film production companies and from independent distributors. Its business is highly seasonal. Higher attendance and revenues generally occur during the summer months and holiday seasons.
Lower admissions and attendance drive down 2Q14 revenue
AMC's 2Q14 results announced in July missed on estimates. Net earnings were $31.4 million compared to net earnings of $61.6 million for the three months ended June 30, 2013. And diluted net earnings per share were $0.32 compared to $0.81. AMC said its earnings were negatively impacted by the increase in income tax, the decrease in equity in earnings of non-consolidated entities, and a fall in attendance.
Article continues below advertisement
The company posted revenue of $726.60 million, down 4.7% on a year-over-year basis. AMC said admissions revenues decreased 7.1%, primarily due to a 7.7% decrease in attendance. This was partially offset by a 0.6% increase in average ticket price. Average ticket price was up primarily due to an increase related to tickets purchased for 3D premium format film product.
Food and beverage revenues were $211.6 million and food and beverage revenues per patron increased 4.5% to $4.22. This is the highest per patron food and beverage revenue in the company's history.
Management also noted that its open-source Internet ticketing initiative has performed well. AMC said it saw a 45% increase in online ticket revenues this year, and sold approximately 13 million online tickets this year.
Capital expenditures up by 20% 
AMC said in September that it is raising its 2014 calendar-year-authorized capital expenditures, or capex, by approximately $39 million. This will enable the company to accelerate the rollout of its on-going customer experience initiatives. The additional capital will support AMC's strategic focus on more guest comfort and convenience, enhanced food and beverage, and premium sight and sound.
The capex amount represents nearly a 20% increase from the estimated $200 million in planned net cash outlays in 2014. Actual total capital spending for 2014 will be approximately $265 to $285 million, before expected landlord contributions of $35 to $55 million.
AMC said during the second quarter of 2014, admissions revenues per screen increased by 33%. Also, adjusted EBITDA more than doubled at AMC's 44 recliner re-seat locations. So, the additional 2014 capital investment will primarily support the acceleration of recliner re-seat initiatives, additional MacGuffins bars and IMAX screens in AMC theatres.
As of June 30, 2014, AMC had recliner re-seats in 44 locations with 505 screens, 74 MacGuffins, and 148 IMAX screens.
Dividend of $0.20 per share
AMC declared a quarterly dividend of $0.20 per share. The yield stands at around 3.5%.
In the next part of this series, we'll look at Point72's position increase in restaurant operator Bloomin' Brands.