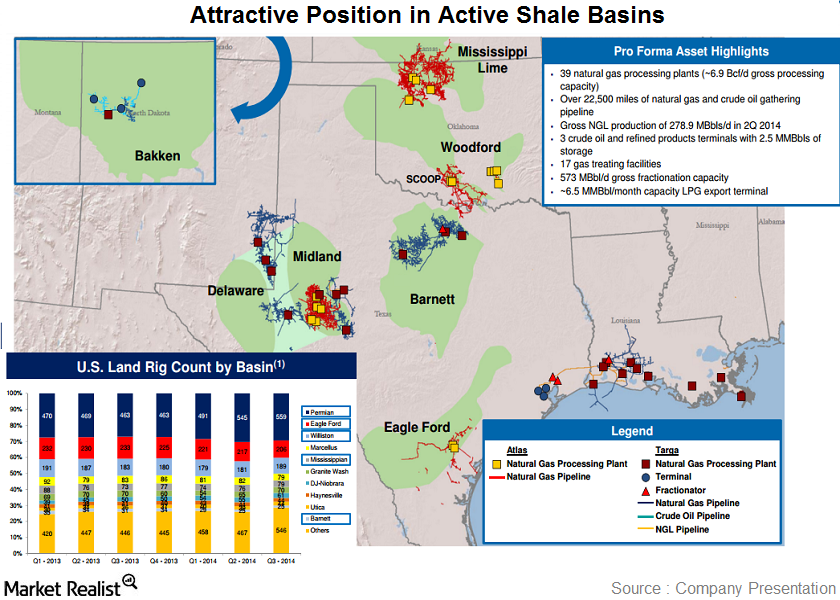 An overview of the Targa Resources and Atlas Pipeline deal
Deal overview
On October 13, Targa Resources Corp (TRGP) and its master limited partnership (or MLP), Targa Resources Partners LP (NGLS), announced the acquisition of Atlas Energy LP (ATLS) and Atlas Pipeline Partners, L.P. (APL).
The two mid-sized midstream companies will combine to form a large midstream enterprise, primarily active in the Permian Basin.
What the deal creates
The combined company will create a midstream enterprise with more than 22,500 miles of crude oil and natural gas pipelines across the U.S.
The $7.7 billion deal is expected to close in the first quarter of 2015.
The companies involved
To understand the deal better you'll need to know more about the companies involved:
Article continues below advertisement
Targa Resources Corp – owns all of the incentive distribution rights, and has a 2% general partner interest in NGLS, through its 100% ownership in NGLS' general partner
Atlas Energy – also an MLP, owns and operates APL's general partner through general partner interests and incentive distribution rights
This series breaks down the deal and explains in detail the role of the companies involved.
Key ETFs
NGLS, APL, and ATLS are all components of the Global X Funds ETF (MLPA), while TRGP is part of the Alerian Energy Infrastructure ETF (ENFR).
NGLS and APL are also components of the Alerian MLP (AMLP)—the largest MLP ETF.
Read Market Realist's Energy & Power page to learn more about the industry.