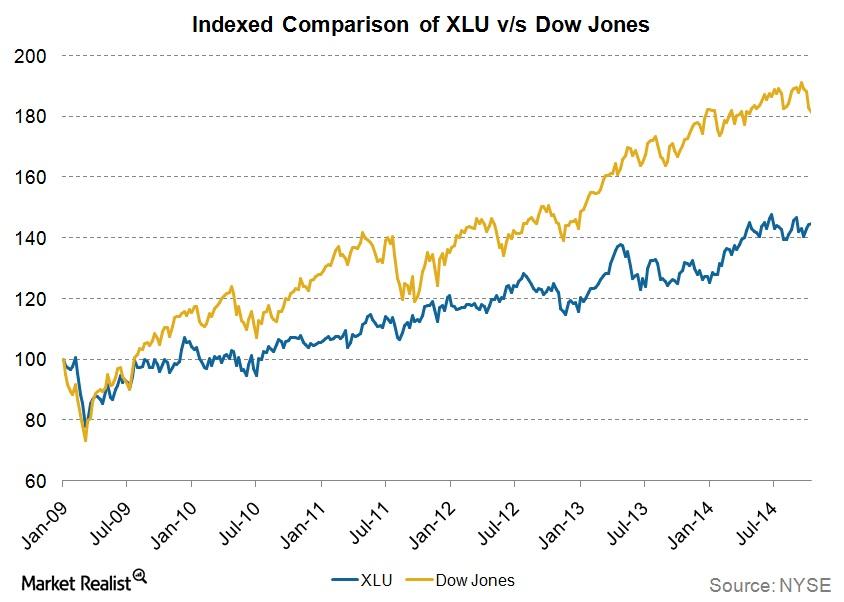 Must-know: US power sector and its indicators
Introduction
The power sector is the backbone of any economy. All of the other industries depend t on it. The power industry has three major functions:
generation of electricity
transmission of electricity to long distances
distribution of electricity to the end customers
Utilities are defensives
In the U.S., the he power utilities business is characterized by steady dividends and stable earnings. These traits make the power industry a defensive industry. The Utilities Select Sector SPDR (XLU) is a key exchange-traded fund (or ETF) in the utilities sector. XLU's top four holdings are Duke Energy (DUK), Southern Company (SO), NextEra Energy (NEE), and Dominion Resources (D).
Over the last five years, XLU rewarded investors with good returns. However, it lagged the Dow Jones Industrial Average (or DJIA). The DJIA Index grew by more than 80% in the last five years.
Article continues below advertisement
XLU's returns in this period are almost half of DJIA's return. XLU's underperformance is a result of economic growth in recent years. Defensives usually perform better than the market during recessionary business cycles. Defensives are usually weaker than the broader markets during expansion cycles in the economy. This is because investors buy cyclical stocks during positive business cycles. They move to stocks with stable earnings when the business sentiments are weak.
Indicators investors should look out for
Investors following the power sector should keep a close eye on key industry and macroeconomic indicators that drive stocks in the sector. Some of the industry-specific indicators we'll discuss in this series are trends in electricity consumption, electricity prices, fuel sources, weather, and regulations. We'll also discuss how certain macroeconomic data—like gross domestic product (or GDP), industrial production, housing, and income growth—is linked to the industry.
Visit the Market Realist Power Utilities page to learn more.