Must-know: An overview of Athlon Energy
The company
Athlon Energy Inc. (ATHL) is based in Fort Worth, Texas. It's an independent oil and gas exploration and production company. Its activities include the acquisition, exploration, and development of oil and liquids-heavy gas resources in the Permian Basin.
Article continues below advertisement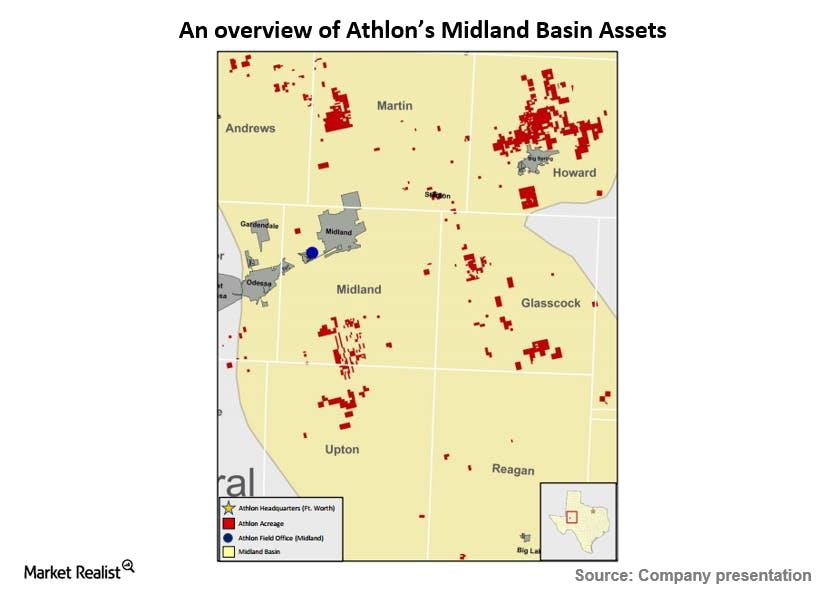 A brief history
ATHL was formed in 2010 by former executives of Encore Acquisition Co. Encore was acquired by Denbury Resources Inc. (DNR) in 2010.Like Encore, ATHL was backed by Apollo Global Management LLC (APO). It was backed with a $360 million investment in 2010. APO gave its blessing to the acquisition by Encana Corp. (ECA). APO still held ~26% of ATHL as of August 2014.ATHL went public three years later in August 2013. It traded at ~$20 a share.
ATHL's operations
ATHL's operations are focused on the Permian Basin. It has ~140,000 net acres spread across various counties of Texas—including Midland, Martin, Howard, and Glasscock counties.Of this, ~42,000 net acres were added after its initial public offering (or IPO) in August 2013.Including estimated additions from recent acquisitions, ATHL's current daily production is close to 30,000 barrels of oil equivalent per day (or boepd). It has ~1,121 vertical wells and ~17 horizontal wells.Its proved reserves amounted to ~173 million barrels of oil equivalent (or MMboe). Of which:
Article continues below advertisement
~58% is estimated to be oil
~23% is estimated to be natural gas liquids (or NGLs)
Only ~19% is estimated to be natural gas
So, ~81% of ATHL's proved reserves are "high-margin" liquids. This is an enviable situation to be in for a company operating in an environment where dry natural gas prices trade at relatively lower levels—compared to crude oil and other liquids.ATHL estimated that its acreage holds ~1.4 billion boe of potential reserves.Also, ATHL identified ~5,875 vertical and ~1,850 horizontal well drilling locations targeting up to 11 stacked formations in the Permian Basin.
Key exchange-traded funds (or ETFs)
Making profits from individual stocks can be difficult and even risky at times. So, a better way for investors to play the U.S. energy boom would be through a diversified ETF like the SPDR S&P Oil & Gas Exploration & Production ETF (XOP). XOP has many companies similar to ATHL among its holdings.For more company overviews, visit our Energy & Power page.