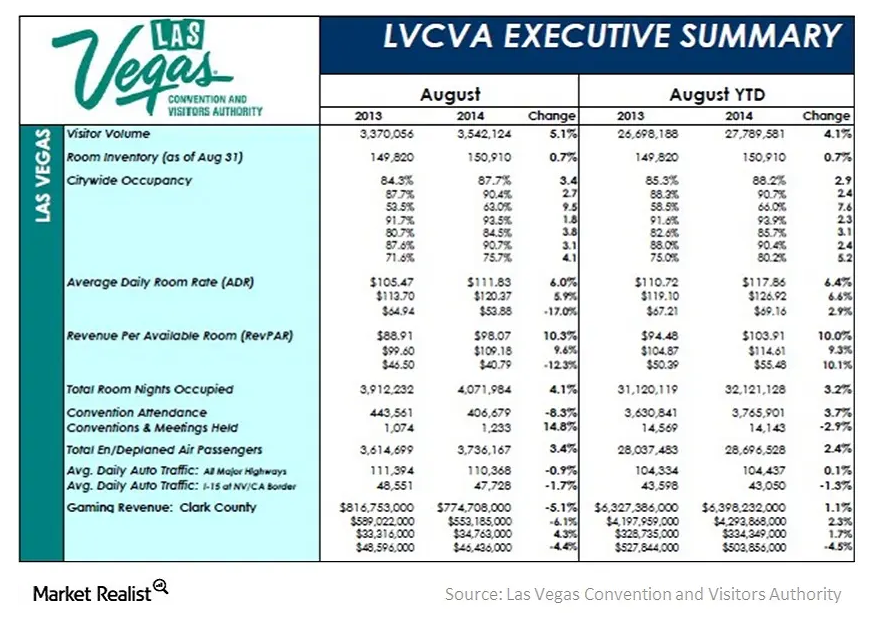 Must-know: Important performance metrics for casino resorts
Las Vegas lodging occupancy
The occupancy rate is very important for casino resorts. The occupancy rate shows the relationship between the number of occupied rooms and the total number of rooms. Las Vegas lodging market occupancy levels have been above the U.S. historical norm.
Major casino operators—like Las Vegas Sands (LVS), Wynn Resorts (WYNN), MGM Resorts (MGM), and Caesars Entertainment (CZR)—have exposure to the Las Vegas market. They're trying to attract more patrons for their casinos and resorts. They're offering discounts and other promotions. Exchange-traded funds (or ETFs)—like the Consumer Discretionary Select Sector SPDR Fund (XLY)—help investors gain diversified exposure to these casino companies.
Article continues below advertisement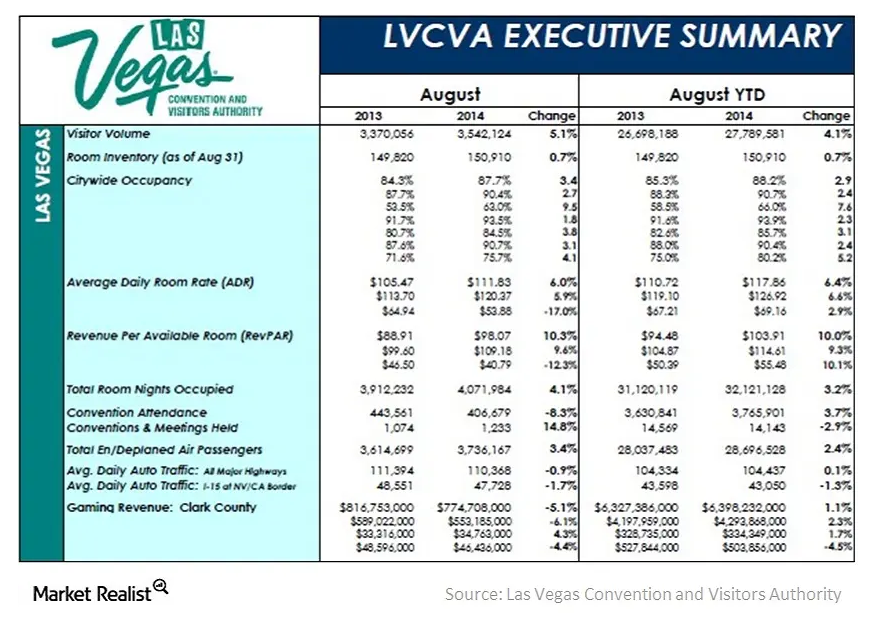 The above chart shows that the average occupancy at the Las Vegas Strip stood at ~87.7% in August 2014—compared to ~84.3% in August 2013. The average daily room rate (or ADR) was $111.83 in August 2014—up 6% year-over-year (or YoY). Revenue per available room (or RevPAR) was $98.07 in August 2014— up 10.3% YoY. RevPAR is an important performance metric in the hotel industry. RevPAR is calculated as ADR times the occupancy rate. The occupancy rate mainly affects the RevPAR.
The above chart also shows that the year-to-date (or YTD) performance of the Las Vegas lodging market through August 2014 shows positive trends—compared to the same period in 2013. This includes significant increases in the number of occupied room nights, ADR, and RevPAR.

Las Vegas convention market
Visitors attending conventions, conferences, and other meetings generate significant occupancy demand. ~5.1 million visitors attended a convention, trade show, or meeting in 2013. This was a 3.3% increase over the year before.
Convention attendance accounted for 14% of all visitors in 2013. It's up 3.7% in 2014 on a YTD basis.
In the next part of the series, we'll discuss the Las Vegas Strip's main revenue source.