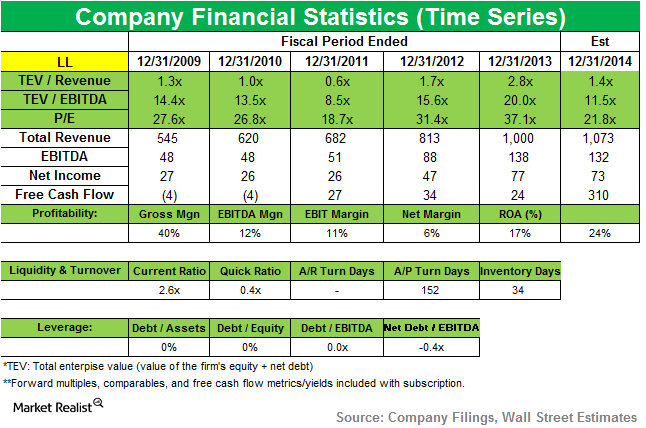 Point72 Asset Management raises stake in Lumber Liquidators
Position summary
Steven Cohen's Point72 Asset Management added to its positions in LogMeIn, Inc. (LOGM), AMC Entertainment Holdings Inc (AMC), Bloomin' Brands Inc (BLMN), Insmed Incorporated (INSM), Kraton Performance Polymers, Inc. (KRA), Kindred Healthcare, Inc. (KND), Aegerion Pharmaceuticals, Inc. (AEGR), and Lumber Liquidators Holdings, Inc. (LL). New positions were initiated in Pier 1 Imports Inc (PIR), Stage Stores, Inc. (SSI), CymaBay Therapeutics Inc (CBAY), and Applied Genetic Technologies Corporation (AGTC).
Article continues below advertisement
Point72 Asset Management added to its position in Lumber Liquidators Holdings, Inc. (LL). An October 13G filing reveals the fund owns 1,399,736 shares. This is up from the 66,700 shares reported in the company's 2Q14 portfolio. The filing says the fund owns a passive 5.2% stake in Lumber Liquidators Holdings.
Overview of Lumber Liquidators

Lumber Liquidators is the largest specialty retailer of hardwood flooring in North America. As of June 30, 2014, the company sold its products through 344 Lumber Liquidators stores in 46 states in the United States, and in Canada. It also sells through a call center, websites, and catalogs. It offers more than 350 flooring varieties, including solid and engineered hardwood, bamboo, cork, laminate, and resilient vinyl.
Sales in 2Q14
In a business update in July, the company said its 2Q14 sales are below expectations, and that it's trimming its outlook for 2014. Management noted that customer traffic to its stores was "significantly weaker [than] expected," particularly in geographic areas severely impacted by the unusually harsh weather in the first quarter. They said the "decline in customer traffic also coincided with certain weak macroeconomic trends related to residential remodeling, including existing home sales, which have generally been lower in 2014 than the corresponding periods in 2013."
Lumber also saw lower-than-planned inventory levels in certain merchandise categories such as laminates, vinyl plank, and engineered hardwoods. This reduced the company's ability to convert customer interest into invoiced sales.
Shares fall as 3Q results miss consensus

Shares plunged after the company posted its latest 3Q14 results this week. Results came in below analyst estimates. Net sales increased $11.8 million, or 4.6%, to $266.1 million in 3Q 2014, while comparable stores net sales decreased 4.9%.
Net income in 3Q 2014 was down to $15.7 million, or $0.58 per diluted share, from $20.4 million, or $0.73 per diluted share, during the same period a year ago.
Gross margins fell to 39.2% from 41.8% in 3Q 2013. Management blamed the decrease on "adverse net shifts in sales mix, greater promotions, discounting at the point of sale and greater costs of inventory shrink and obsolescence."
The company "saw improvement in net sales trends over the course of the quarter as inventory levels recovered and the fall flooring season began." But the shares are down 49% in the year to date.
Lumber revises outlook for full year 2014
For the full year 2014, Lumber forecast net sales ranging between $1.05 billion and $1.065 billion. Previously, net sales were to range between $1.05 billion and $1.10 billion, and from $275 million to $290 million in the fourth quarter.
The company expects comparable store net sales to decrease in the low single digits, with a fourth-quarter range of low single digits, either positive or negative.
Management added, "In the fourth quarter, we expect our operations to continue to improve even in an uncertain environment for large-ticket, discretionary home improvement."
In the next part of this series, we'll review Point72's new positions since June, beginning with Texas-based retailer Pier 1 Imports.