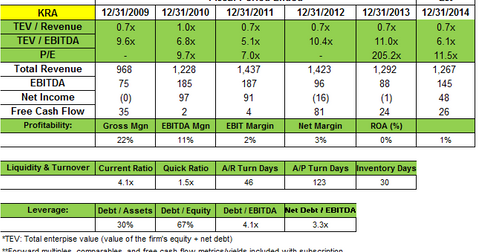 Point72 Asset Management adds to position in Kraton Polymers
By Samantha Nielson

Updated
Position summary
Steven Cohen's Point72 Asset Management added to its positions in LogMeIn, Inc. (LOGM), AMC Entertainment Holdings Inc (AMC), Bloomin' Brands Inc (BLMN), Insmed Incorporated (INSM), Kraton Performance Polymers, Inc. (KRA), Kindred Healthcare, Inc. (KND), Aegerion Pharmaceuticals, Inc. (AEGR), and Lumber Liquidators Holdings, Inc. (LL). New positions were initiated in Pier 1 Imports Inc (PIR), Stage Stores, Inc. (SSI), CymaBay Therapeutics Inc (CBAY), and Applied Genetic Technologies Corporation (AGTC).
Point72 Asset Management added to its position in Kraton Performance Polymers, Inc. (KRA). A 13G filing in August noted that the fund owns 1,661,970 shares. This is up from the 1,537,070 shares reported in the company's 2Q14 portfolio. The filing said the fund owns a passive 5.1% stake in Kraton.
Overview of Kraton Performance Polymers
Kraton Performance Polymers operates through subsidiary, Kraton Polymers LLC, and additional subsidiaries. Put together, Kraton is a leading global producer of engineered polymers and one of the world's largest producers of styrenic block copolymers, or SBCs.
SBCs are highly-engineered synthetic elastomers, which Kraton invented and commercialized almost 50 years ago. The synthetic elastomers enhance the performance of numerous end-use products by giving materials greater flexibility, resilience, strength, durability, and processability.
Kraton also produces Cariflex isoprene rubber and isoprene rubber latex. Its products are marketed under the Kraton, Cariflex, and NEXAR brands.
The majority of worldwide SBC production is dedicated to un-hydrogenated SBCs, or USBCs, which are primarily used in paving and roofing, adhesives, sealants and coatings, and footwear applications.
Article continues below advertisement
Hydrogenated SBCs, or HSBCs, which are significantly more complex and capital-intensive to manufacture than USBCs, are used in applications such as soft touch and flexible materials, personal hygiene products, medical products, automotive components, and certain adhesives and sealant applications. Sales of HSBC products comprised 30.3% of Kraton's 2013 revenue.
Terminates merger with LCY Chemical Corp
In August, a planned merger between Houston-based Kraton Performance Polymers and the styrenic block copolymer operations of Taiwan-based LCY Chemical Corp was terminated. Originally announced in January, the merger aimed to create a $2+ billion pro forma revenue industry leader. It would have also increased Kraton's participation in the fast-growing China and Asia-Pacific markets.
In June, Kraton's provided a lower-than-forecast update on 1Q14 results for LCY's SBC business. Financial projections for the business had to be revised. As a result, Kraton saw its stock price decline and experienced a negative reaction from its shareholders. In response, Kraton's board decided to withdraw recommendations for the merger unless the parties agreed upon mutually acceptable revised terms. The agreement was subsequently terminated by LCY.
Sales revenue and volumes 
Kraton Polymers reported sales revenue of $323.8 million in the second quarter. This is down 3.2% from $334.5 million during the same period a year ago.
Net income grew to $11.1 million, or $0.33 per diluted share, from net income of $3.8 million, or $0.12 per diluted share, in 2Q13.
Adjusted EBITDA at estimated current replacement cost (non-generally accepted accounting principles) was $38.6 million, a 20.7% increase compared to 2Q13.
Segment results in brief
The management said sales volume was 78.4 kilotons, up 1.2% compared to the 77.5 kilotons reported in 2Q13. A 5.5% increase in the HSBC product family led the increase.
The advanced materials segment saw a 5.6% decline in sales volumes due to lower volume in personal care applications. This reflects a market trend in the diaper business. Some customers are shifting from HSBC-based applications towards less-differentiated and lower-cost materials.
Paving and roofing sales revenue was down due to lower average selling prices. This reflects lower raw-material costs, primarily butadiene. Sales volumes increased modestly.
Adhesives, sealants, and coatings saw a 5.9% increase in sales volumes due to higher HSBC-based sales in lubricant additive and sealant and caulk applications. USBC-based sales also increased in industrial and printing plate applications.
In the next part of this series, we'll review Point72's position increase in healthcare services company Kindred Healthcare.