Why the video gaming industry is attracting so much investment
By Anne Shields

Sep. 1 2020, Updated 10:55 a.m. ET
The video gaming industry has always experienced expensive acquisitions
Mergers and acquisitions aren't uncommon. In fact, they play an integral role in the growth of the video gaming industry. Sony's entry into the gaming industry since the 1990s is an example of this. Since the company launched its PlayStation hardware, it has been synonymous with power, quality, and functionality. Sony pioneered disc-based consoles, which to date remain the most popular gaming platform.
Article continues below advertisement
So, did Sony achieve all its growth without any acquisitions? On its path to success, Sony strategically acquired game studios, gave them new titles, and launched them exclusively for the PlayStation.
In 2007, Electronic Arts (EA) acquired Bioware/Pandemic for $860 million. In 2013, Activision Blizzard Inc., a video game holding company, sold to Vivendi SA for $8.2 billion.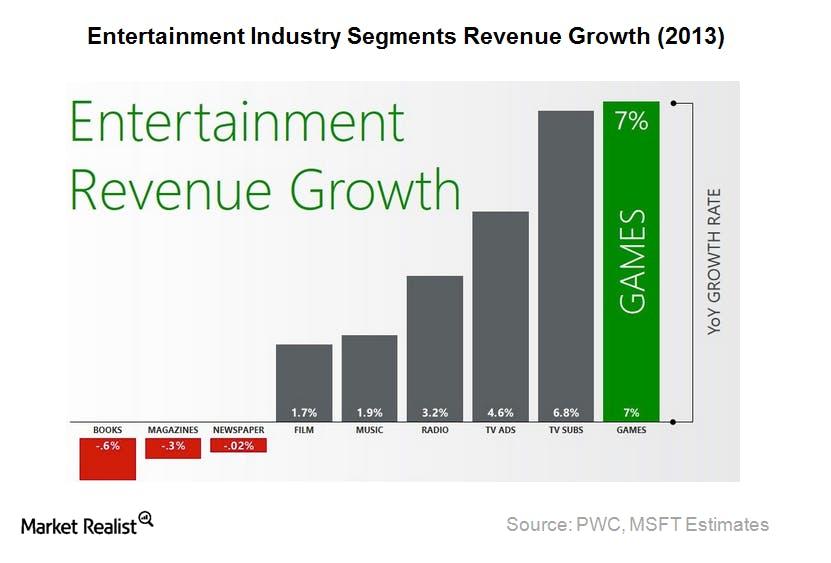 Article continues below advertisement
According to Gartner, in 2013, the worldwide video game market was worth $93 billion. It's expected to grow to $111 billion by 2015. As the above chart shows, the video game industry is the fastest-growing entertainment industry. This explains the huge amount of mergers and acquisitions in the space.
2014 saw some of the most expensive acquisitions
In 2014 to date, Facebook, Microsoft, and Amazon combined made acquisitions over $5 billion. Though the three acquisitions aren't exactly in the same space, they all relate to the virtual, gaming, and online world.
The young population and gamers are the customers driving these acquisitions—whether in virtual reality, live video streaming, or gaming.
What these expensive acquisitions offer
Gaming offers an interactive and social experience to users. According to Digi-Capital, mobile games consume 43% of mobile app usage across Google Android and Apple  iOS tablets and smartphones. They account for ~67% of all tablet use.
So, through mobile devices, forums, communities, channels, and networks, popular games offer an opportunity for advertising and subscription revenues. Amazon's (AMZN) acquisition of Twitch and Microsoft's (MSFT) acquisition of Minecraft seem to target this opportunity. Through these acquisitions, apart from these brands themselves, these companies will now have direct and extensive access to the brands' current and future target consumer base.