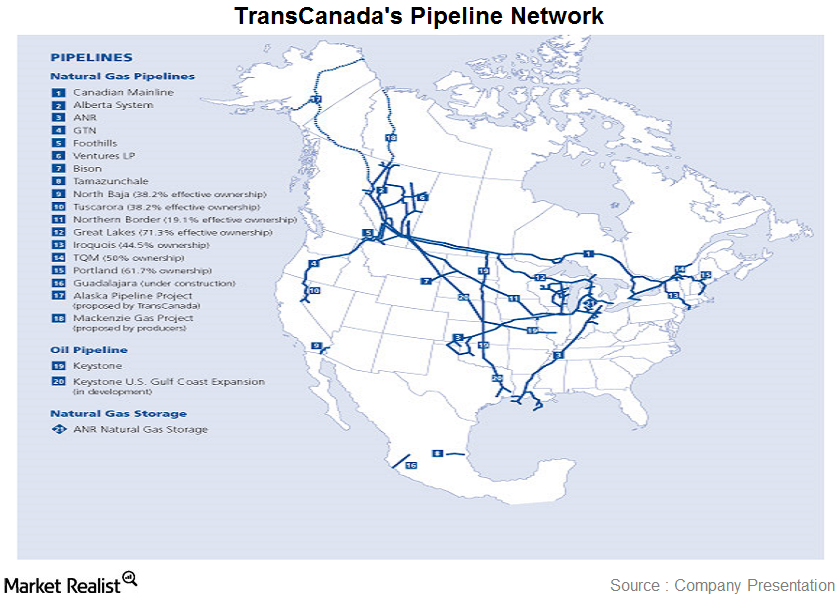 The story behind the Canadian giant—TransCanada Corp.
TransCanada
TransCanada Corporation (TRP) is based in Canada. It's one of North America's leading natural gas pipeline network owners. TransCanada also provides natural gas storage services. It owns several electrical power generation plants across the U.S. and Canada.
Article continues below advertisement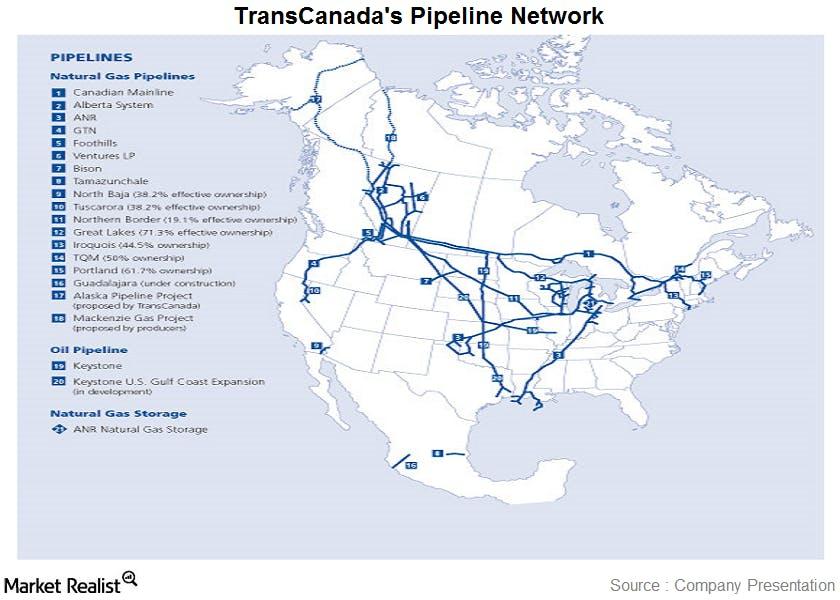 A brief history
The Trans-Canadian natural gas pipeline was proposed in 1931. However, talks about construction didn't gain momentum until the 1950s.
Political, social, and economic factors caused the delay. At the time, these factors were influencing Canada.
The country experienced national sentiment, looming energy shortages, and the election of a new government in 1957. This set the stage for developing plans to use Alberta's large amounts of natural gas deposits.
The U.S. and Canada opposed the pipeline. However, it was finally approved in June 1956. Construction began in 1957. The project was completed in 1958. The pipeline was more than 2,200 miles long. It was the longest pipeline in the world. It has expanded continuously.
Article continues below advertisement
In 1967, TranCanada pipeline (or TCPL) extended its pipeline along the Great Lakes in the U.S. By 1992, TCPL completed the Iroquois extension. The extension included expanding the Great Lakes gas transmission system and the mainline system.
By the early 1990s, TCPL also developed interests in electric power generation projects.
In 1998, TCPL merged with NOVA Corporation. The merger brought together TransCanada's primary pipelines with NOVA's Alberta System.
In 1998, TCPL also formed TC PipeLines LP (TCP)—a master limited partnership (or MLP) company. Read more about TCP's association with TRP here.
We'll discuss TCP in more detail later in this series.
In 2003, the firm changed its structure. It setup TransCanada Corporation as the parent for TransCanada Pipelines and other subsidiaries.
In February 2007, the company purchased American Natural Resources Company and ANR Storage Company. It purchased the companies from El Paso Corporation (EP). This increased its natural gas pipeline and storage assets.
TransCanada has also been pursuing notable pipeline projects. These include the Keystone project and the Energy East Pipeline projects.
Key exchange-traded funds (or ETFs)
TRP is a component of the Alerian Energy Infrastructure ETF (ENFR). It's also part of the First Trust North American Energy Infrastructure Fund (EMLP).
In the next part of the series, we'll discuss TRP's operations in more detail.