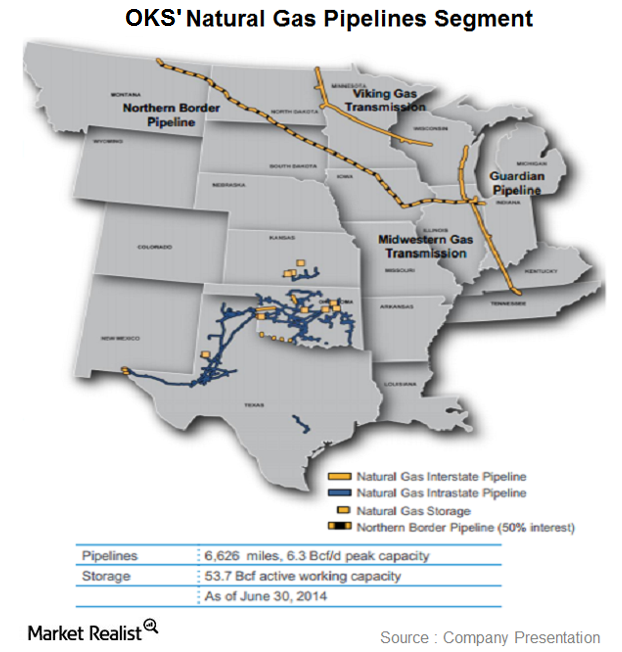 Overview: ONEOK Partners' natural gas pipelines segment
Natural gas pipelines segment
ONEOK Partners' (OKS) natural gas pipelines segment owns and operates regulated interstate and intrastate natural gas pipelines and natural gas storage facilities.
This segment owns 6,626 miles of pipelines, with a capacity of 6.3 Bcf/d (or billion cubic feet per day). It also owns storage assets that have working capacities of 53.7 Bcf.
OKS' FERC (or Federal Energy Regulatory Commission) regulated interstate natural gas pipelines transport natural gas through pipelines in North Dakota, Minnesota, Wisconsin, Illinois, Indiana, Kentucky, Tennessee, Oklahoma, Texas, and New Mexico.
Plus, ONEOK Partners' intrastate natural gas pipeline assets in Oklahoma transport natural gas throughout the state and have access to the major natural gas producing areas in the state, which include the Cana-Woodford Shale, Granite Wash, and Mississippi Lime.
Apart from Oklahoma, OKS also has access to other major natural gas producing areas, including the Texas Panhandle in Texas and the Delaware and Cline producing areas in the Permian Basin.
Apart from these, ONEOK Partners also owns underground natural gas storage facilities in Oklahoma and Texas that are connected to its intrastate pipelines.
Segment revenue
Revenues from this segment are predominantly fee-based. OKS' revenues are generated from the following types of fee-based contracts:
Article continues below advertisement
Firm service—under this contract, customers can reserve a fixed quantity of pipeline or storage capacity and pay a fixed fee for a specified quantity, regardless of the actual usage. The customers then typically pay incremental fees, known as "commodity charges," which are based upon the actual natural gas volume they transport or store.
Interruptible service—Customers with interruptible service agreements may utilize available capacity for transportation and storage after firm service requests are satisfied or on an "as-available basis." Customers are typically charged fees based on their actual usage.
Read more about different natural gas processing contracts here.
Key ETFs
OKS is a component of several MLP ETFs, including the Alerian MLP ETF (AMLP)—which tracks the Alerian MLP Infrastructure Index (AMZI)—the Global X MLP ETF (MLPA), and the First Trust North American Energy Infrastructure Fund (EMLP).
Continue on to the following part to read about recent developments at ONEOK Partners.