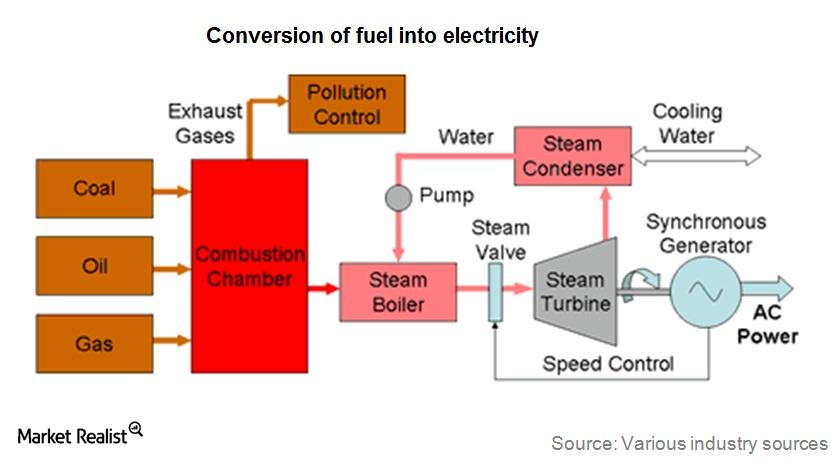 Must-know: Terminology used in the electric utilities industry
By Matt Phillips

Sep. 5 2014, Updated 1:34 p.m. ET
Terminology used in the electric utilities industry
Electricity comes from energy sources that are found in nature. These sources are called primary energy sources. They're the first form of energy. Primary energy sources include coal, gas, oil, wind, and water.
Important terminology that's used in the electric utilities industry includes:
Power – the rate at which energy is produced or consumed.
Kilowatt (or kW) – a unit to quantify power. Higher units are megawatts (or MW) and gigawatts (or GW)—equivalent to 1,000 kW and a million kW, respectively.
Kilowatt hour (or kWh) – a unit used to measure energy. Equipment

uses

up to one kW if its used for an hour.
Load – the amount of electricity delivered or required at any specific point of time in the system.
Load factor – the ratio between average load and maximum load in a specified time frame.
Capacity – the maximum output achievable from a power plant.
Capacity factor – the ratio of the actual output to the potential output. It's an important metric to understand a plant's efficiency.
Utility – a company that provides essential services like water, electricity, transportation, or

communication

to the public. It's subject to government regulation.
Renewable energy – energy created from sources that can never be depleted. The sources are generated by nature. Examples include solar, wind, geothermal energy, and hydroelectric energy.
Power purchase agreement (or PPA) – the contract between a power producer and its customers. PPA's lock the price of power at a specified price for the life of the agreement.
These terms are often used in context to companies like Duke Energy (DUK), Southern Company (SO), Dominion Resources (D), and NextEra Energy (NEE). The terms are also used by the Utilities Select Sector SPDR (XLU).
Article continues below advertisement