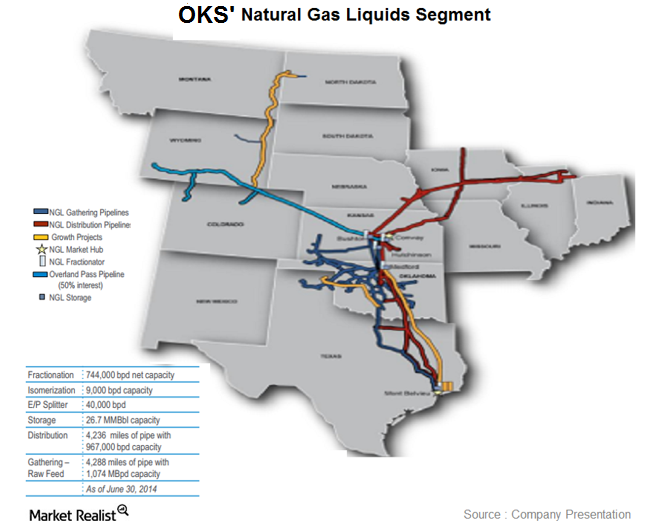 Overview: ONEOK Partners' natural gas liquids segment
Natural gas liquids segment
ONEOK Partners' (OKS) natural gas liquids segment provides natural gas liquid gathering, fractionation, transportation, marketing, and storage services to its producers.
The segment owns 4,288 miles of gathering pipelines with a capacity of 1,074 Mbpd (or thousand barrels per day) and 4,236 miles of distribution pipelines with a capacity of 967 Mbpd.
The segment also has a 744 Mbpd fractionation capacity and a 26.7 Mmbbls (or million barrels) storage capacity.
Gathering and distribution system
OKS's gathering systems are connected to approximately 120 natural gas processing plants in the Mid-Continent, Barnett, and Rocky Mountain regions. Plus, its distribution system links key NGL (or natural gas liquids) market centers at Conway, Kansas, and Mont Belvieu, Texas.
Segment revenue
There are five revenue source categories under this segment.
Article continues below advertisement
Exchange services' activities—under this agreement, OKS gathers, fractionates, and treats unfractionated NGLs for a fee, converting them into marketable NGL products that are stored and shipped to customer-designated locations.
Optimization and marketing activities—OKS' revenues from these activities are earned by utilizing its assets and market knowledge to capture locational price differentials by moving NGL products between Conway and Mont Belvieu. Conway and Mont Belvieu are crucial NGL marketing centers. OKS also utilizes its storage facilities to capture seasonal price variances.
Pipeline transportation activities—ONEOK Partners also earns revenue by transporting unfractionated NGLs, primarily under FERC (or Federal Energy Regulatory Commission) regulated tariffs. Tariffs specify the maximum rates that OKS can charge its customers and the general terms and conditions to adhere to for transporting NGLs on its pipelines.
Isomerization activities—these activities allow OKS to capture the product price differential when normal butane is converted into the more valuable isobutane at its isomerization unit in Conway. Isobutane is used in the refining industry to increase the octane of motor gasoline—which helps increase the standard measure of performance.
Storage activities—revenue from these activities are earned by providing fee-based NGL storage services at OKS' Mid-Continent and Gulf Coast storage facilities.
Key ETFs
OKS is a component of several MLP ETFs, including the Alerian MLP ETF (AMLP)—which tracks the Alerian MLP Infrastructure Index (AMZI)—the Global X MLP ETF (MLPA), and the First Trust North American Energy Infrastructure Fund (EMLP).
In the following part, we'll discuss the natural gas pipelines segment.