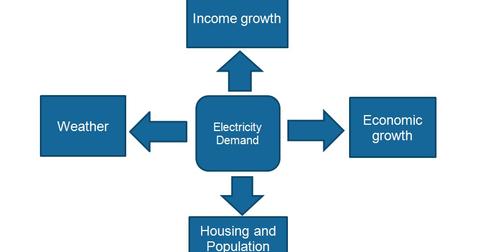 Must-know: Factors that impact electricity demand
By Matt Phillips

Updated
Factors the impact electricity demand
Some of the key factors that impact the industry are:
Economic growth
Housing and population growth
Income growth
Weather
Economic growth
High economic activity creates demand for electricity consumption. An economic contraction affects consumption negatively. Commercial and industrial demand for electricity increases in a growing economy.
Housing and population growth
Housing growth means that there are a higher number of residential connections for the industry. This increases the need for electricity. According to World Bank data, the per capita consumption of electricity in the U.S. for 2011 was 13,246 kilowatts per hour (or kWh). When the population increases, the total power consumption also increases.
Income growth
Article continues below advertisement
The most important factor that affects electricity demand is household income. According to the U.S. Energy Information Administration (or EIA), between 1981 and 2001, household real disposable income increased by 49%—from $17,217 to $25,698. As income increased, so did the demand for larger homes and new appliances. This increased the demand for electricity. In 2001, an average household with an income of less than $20,000 used ~24,000 kWh of electricity—compared to 42,000 kWh for households with an income of more than $50,000.
Weather
Higher variations in temperature mean higher electricity consumption. More electricity is to heat and cool buildings. As a result, weather plays an important role in electricity demand. Consumers' electricity bills can increase during a year that experiences extreme weather conditions.
All of these factors play an important role in electric utility companies like Duke Energy (DUK), Southern Company (SO), NextEra Energy (NEE), and Dominion Resources (D). The factors also influence the Utilities Select Sector SPDR (XLU).