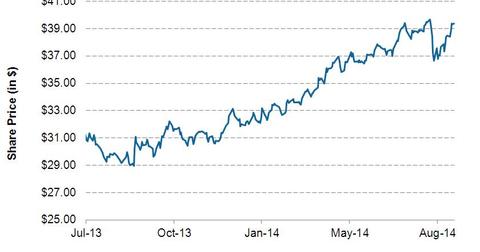 An investor's introduction to Enterprise Products Partners
By Alex Chamberlin

Updated
Enterprise Products Partners
Enterprise Products Partners (EPD) is one of the largest midstream master limited partnerships or MLPs and a significant component of the Alerian MLP ETF (AMLP). EPD is a leading midstream service provider in the natural gas, natural gas liquids or NGLs, crude oil, petrochemicals, and refined products sectors. It offers its services to the energy producers and consumers.
Enterprise GP is Enterprise Products Partners' general partner. EPD operates through its wholly owned subsidiary, Enterprise Products Operating LLC ("EPO").
The company's operations include:
Article continues below advertisement
Natural gas gathering, treating, processing, transportation, and storage
NGL transportation, fractionation, storage, and LPG (liquefied petroleum gas) export terminals
Crude oil gathering, transportation, and storage
Offshore pipeline services
Petrochemical and refined products transportation
Marine transportation
As of June 2014, its assets include:
51,000 miles of onshore and offshore pipelines
200 million barrels or MMBbls of storage capacity for NGLs, petrochemicals, refined products, and crude oil
14 billion cubic feet or Bcf of natural gas storage capacity
24 natural gas processing plants
22 NGL and propylene fractionators
six offshore hub platforms located in the Gulf of Mexico
a butane isomerization complex
A brief history
In September 2006, EPD formed Duncan Energy Partners (DEP) to acquire, own, and operate midstream energy assets. In September 2011, in an effort to streamline its organizational unit and optimize operational costs, DEP was merged into EPD as its subsidiary.
Recently, Kinder Morgan Inc. (KMI) has expressed its intentions to merge its midstream subsidiaries Kinder Morgan Energy Partners (KMP) and El Paso Pipelines Partners (EPB) into KMI. For details on the merger, read our article Everything you need to know about the Kinder Morgan consolidation.
Other MLPs operating in the midstream energy sector are Energy Transfer Partners (ETP) and Plains All American Pipeline (PAA). These companies are components of the Alerian MLP ETF (AMLP).
Stock performance
EPD's share price has gone up ~33% in the past year.
On July 15, 2014, EPD declared a two-for-one stock split by distributing one additional common unit for each common unit outstanding.
To access our premium industry primers, company overviews and financial models, please email premium@marketrealist.com. Specify the industry or company ticker(s) you are interested in and a representative will get in touch with you.