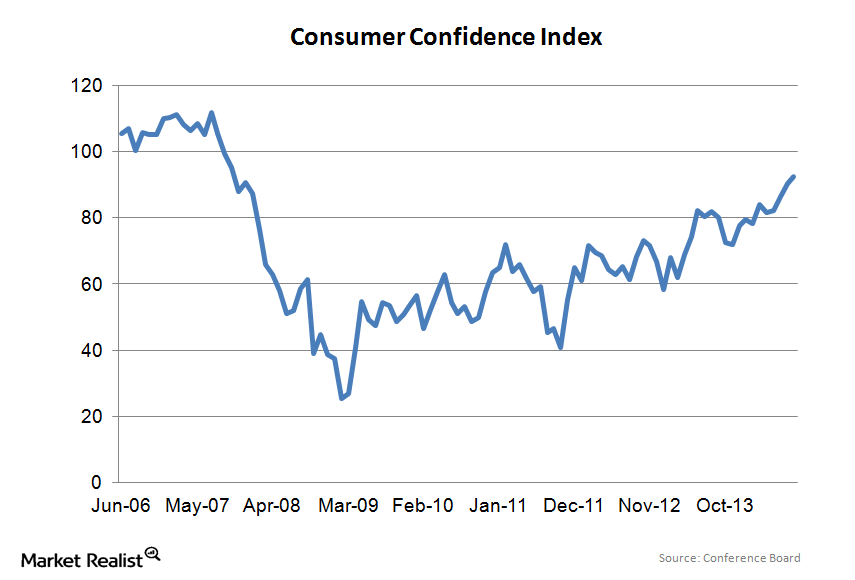 Why rising asset prices are driving consumer confidence higher
The Conference Board Consumer Confidence Index is a leading indicator for the U.S. economy
The Conference Board Consumer Confidence Index is an important indicator of the consumer's perception of the U.S. economy. Similar to other consumer confidence measures, it asks consumers about their views on the current economic conditions and their expectations for six months out.
The CCI is one of the oldest consumer surveys, originally started as a mail-in survey in 1967. It asks respondents whether the following conditions are positive, negative, or neutral:
Current business conditions
Current employment conditions
Expected future business conditions
Expected future employment conditions
Expectated family income
The index is the average of the five questions put together.
Consumption is the major driver of the U.S. economy, and it accounts for 70% of GDP. Consumption has been relatively subdued since the recession began, as Americans have boosted their savings rate and spent only on essentials.
Article continues below advertisement
The real estate bubble drove consumption in the mid-2000s, as people took out cash refinances and spent the extracted home equity. This increased the cost basis for many people's homes and left people vulnerable when house prices collapsed. As a result, consumers have focused more on paying down debt than on spending.
Highlights from the report
The Conference Board Consumer Confidence Index rose to 92.4 in August from a downward-revised 90.3 in July. Consumer confidence in 1985 was 100. The present index rose to 94.6 from 87.9, but the expectations index decreased to 90.9 from 91.9. Given that 1985 is more or less at par, consumer confidence is still on the weak side.
The index can vary widely. In May of 2000, it was 144.7, and in February of 2009, it bottomed at 25.3. The expectations outlook may have been driven by a drop in the labor market outlook.
Despite some disappointing economic reports, it appears that consumers are feeling better, and that might be due to increasing asset prices—particularly the stock market and the real estate market. In fact, we're seeing a broadening of the real estate recovery from the West Coast to some of the more dormant markets in the Midwest and the Northeast—and that may be playing a role as well.
Impact on commercial REITs
We've been starting to see the consumer wake up and begin to spend. In particular, the luxury end of the retailing sector seems to be performing best. This is good news for mall REITs like Simon Property Group (SPG), General Growth Properties (GGP), CBL and Associates (CBL), and Taubman (TCO), as well as the Vanguard REIT ETF (VNQ).
Generally, recessions end when the consumer finally begins to spend, and often it's out of necessity, not desire. Eventually, the clothes wear out and the 12-year-old car becomes too expensive to keep fixing. We have a tremendous amount of pent-up demand in the U.S. right now, and it appears we may be at the inflection point.