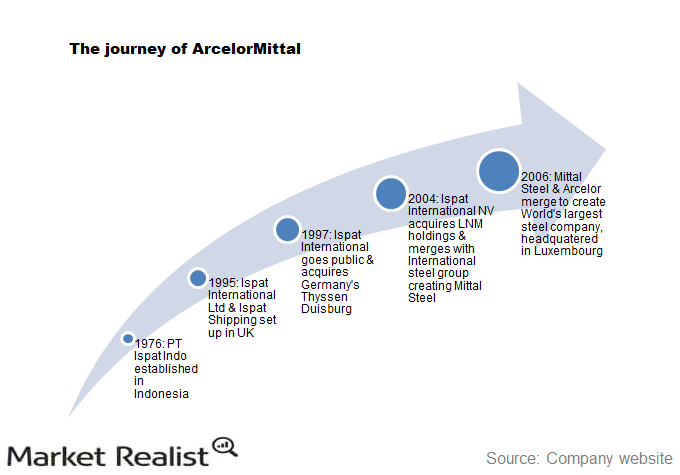 Overview: ArcelorMittal—leader in steel manufacturing
Background of ArcelorMittal
With 119 million tons of annual capacity and industrial presence in 22 countries spread across four continents, ArcelorMittal (MT) is the world's largest steel manufacturer. ArcelorMittal is the successor to Mittal Steel which was founded in 1976 by Mr. Lakshmi N. Mittal, who is the CEO and chairman of the board of directors. The company started with very modest operations initially, but eventually grew to become a global giant.
Company growth
Article continues below advertisement
Article continues below advertisement
The previous chart shows the key events throughout ArcelorMittal's history. It has grown rapidly through a successful consolidation and acquisition strategy. The company went public in 1997. It also acquired Thyssen Duisburg of Germany. In 2004, Mittal Steel was formed by merging Ispat International and International Steel Group. ArcelorMittal was formed by the merger of Mittal Steel and Arcelor in 2006. The company is based out of Luxembourg.
Major acquisitions
ArcelorMittal has made multiple acquisitions in its quest for growth. Some of the major acquisitions include Siderurgica del Balsas in Mexico in 1992, Sidbec in Canada in 1994, and Karmet in Kazakhstan and Hamburger Stahlwerke in Germany in 1995. The company also acquired Inland Steel in the U.S. in 1998, Unimetal in France in 1999, Sidex in Romania and Annaba in Algeria in 2001, and Nova Hut in the Czech Republic in 2003.
In 2007, the newly merged ArcelorMittal continued its expansion strategy by announcing 35 transactions worldwide.
The man behind the success
Article continues below advertisement
In Hinduism, Lakshmi is the goddess of wealth. The current chairman has been true to his name when it comes to creating wealth. The current market cap of ArcelorMittal is close to $24 billion, with his personal net worth valued in excess of $ 17 billion. He has led the company since in began in 1976. Born in a small town in India, he went on to build his steel business. Coupled with some luck and sound business strategies, he has been instrumental in creating this enterprise.
This series is an overview of ArcelorMittal (MT). It compares ArcelorMittal with other U.S. listed steel companies like United States Steel Corporation (X), Nucor Corporation (NUE), and Reliance Steel & Aluminum (RS). Investors looking for exposure in the steel industry, can also consider exchange-traded funds (or ETFs) like the SPDR S&P Metals and Mining ETF (XME).