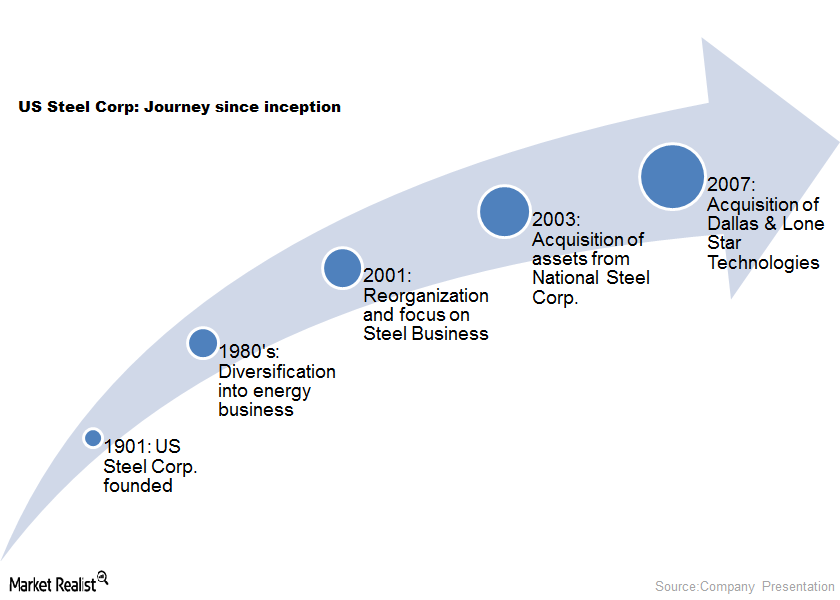 Must-know: The history of US Steel Corporation
The history of U.S. Steel Corporation
U.S. Steel Corporation is the largest steel company headquartered in the U.S. It's the 13th largest producer globally with production of 20.4 million tons in 2013. When it was founded in 1901, its authorized capital was a whopping $1.4 billion. It was the largest business enterprise ever launched. It accounted for 67% of total steel produced in the U.S. in its very first year of full operation. It has been a symbol of America's rise, and then decline, in industrial production.
Article continues below advertisement
Article continues below advertisement
U.S. Steel Corp. has been in existence for more than a century. It survived the Great Depression, two world wars, and the recent global recession. While many other steel companies have failed, it has been able to tide over these challenging times. In the next section we'll look at how the company has evolved over the years.
U.S. Steel Corporation reorganization
The company has been reorganized multiple times since its inception. Significant reorganization took place in the 1980s with the company diversifying into the energy business with the acquisition of Marathon Oil Company and Texas Oil & Gas Corp. The company also diversified geographically and ventured into a set of unrelated businesses like chemicals, agrochemicals, and oil field supply.
Consolidation and focus strategy
After trying its hands at various businesses, the company finally consolidated the operations in 2001. The steel and steel-related business was organized into U.S. Steel Corporation while the energy business was bought under Marathon Oil Corporation.
After the reorganization, the company adopted a new vision for its future, "Making steel." It has made several acquisitions in the sector since then. In 2003 it acquired certain assets from bankruptcy protected National Steel Corp. A major push came in 2007 when it purchased Dallas, and Lone Star Technologies. This deal made U.S. Steel Corp. the largest tubular goods producer in North America. In the same year it acquired Canada's Stelco Inc. which it renamed U.S. Steel Canada.
This series is meant to educate investors about U.S. Steel Corporation (X) and compare it with other steel making companies like ArcelorMittal (MT), Nucor Corporation (NUE), and Reliance Steel & Aluminum (RS). Also, investors looking for exposure in the steel industry, can consider exchange-traded funds (or ETFs) like the SPDR S&P Metals and Mining ETF (XME).